Hey Beautiful,
Hope you are doing well and all set to celebrate Raksha Bandhan with loads of fun and gifts. (Do check What I am going to wear this Raksha Bandhan)  Just like the prior month, I received Glam Ego box this month too and this box is super fun for beauty and makeup lovers.  (Read Review of July month's GlamEgo box)
The best thing about Glam Ego box is they send you amazing products and maximum of full size in affordable prices. In-fact if you haven't tried it yet you can ask your brother to gift this one as well, this Rakhsha Bandhan.
So before I share detailed info let me just share the basic details for people who are very new to term 'Glam Ego Box'.
GlamEgo is India's top online beauty subscription service. They believe in power of sampling that lets us experience and single-out a product of our choice before we spend on pricey products that we are clueless about.
Through our GlamEgo box, we offer our subscribers an unparalleled way of experiencing and exploring a wide range of beauty products from both established luxury brands as well as flourishing niche brands.
Price –
For 1 month: 399 INR
For 3 months: 329 INR per box (987 INR in total)
For 6 months: 299 INR per box (1794 INR in total)
For 12 months: 289 INR per box (3468 INR in total)
 Note – If you are a serious makeup lover then their 12 months package is way cheap for the value of products you are going to receive.
The Glam Ego box of July comes in pretty pink cardboard box packaging.  Packaging is always very steady to keep your products safe. This month's Glam Ego box comes with 4 products and a discount voucher of INR499 that can be availed while purchasing The Nature's Co products. The products I received have worth of Rs. 1650.
Let me show you what all I received in this month's Glam Ego box, you can expect similar products –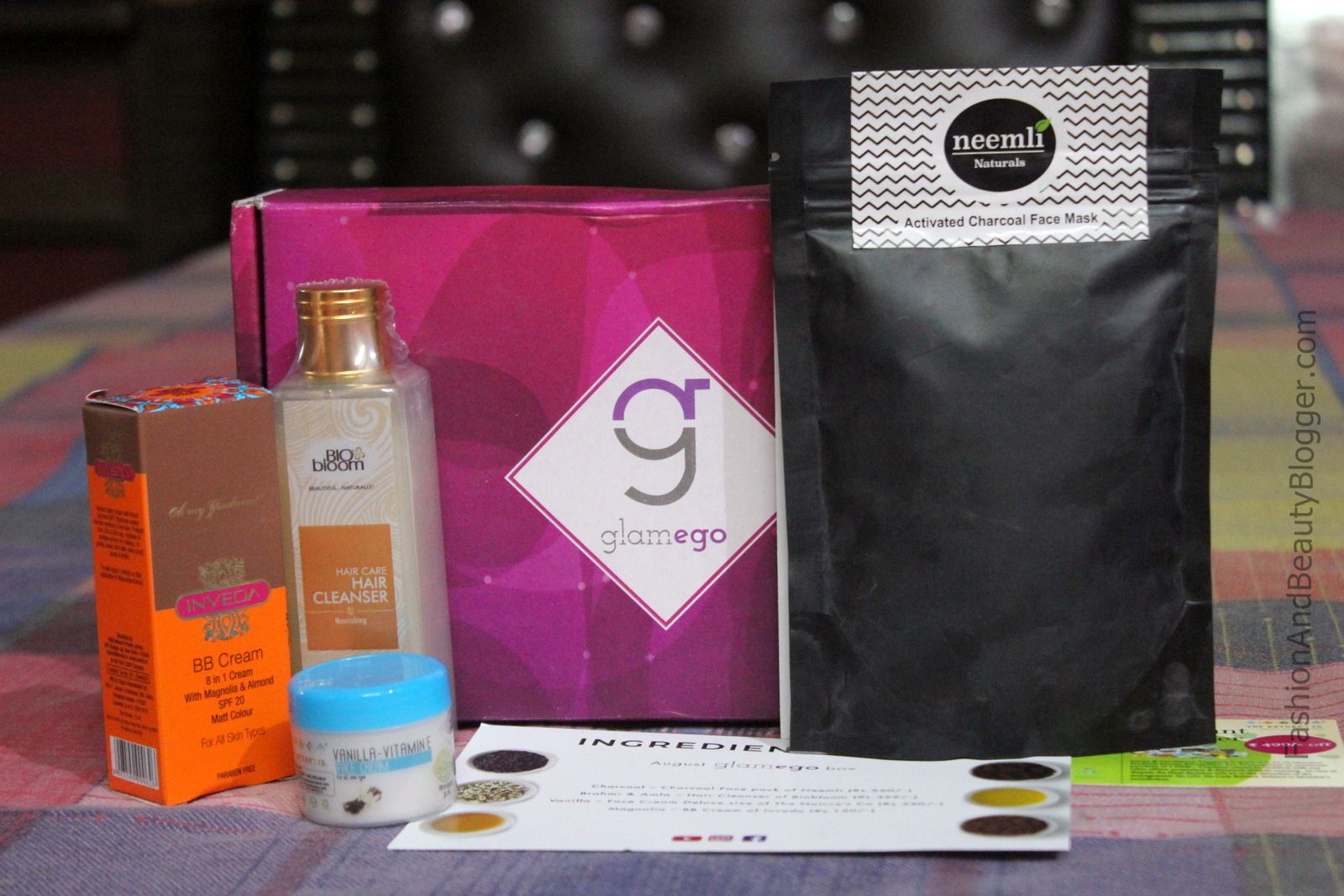 Neemli Naturals Charcoal Face Pack
The Natures Co Vanilla Vitamin E Face Cream
The Biobloom Brahmi & Amla Shampoo
Inveda BB Cream with SPF 20
My most fav. product from this month's glam box is The Natures Co Vanilla Vitamin E Face Cream and it smells so yummy. Vanilla as ingredient is best for youthful skin and B-vitamins in it maintains the skin healthier.
The Biobloom Brahmi & Amla Cleaner is my second most favourite product because this one is totally an organic product and it does not have sulphates.  This shampoo comes with goodness of herbal ingredients like Brahmi, Hibiscus and Amla.
Perfect for Keratin treated hairs.
Inveda is going to be a very new brand for me from this month's Glam Ego box and looking forward to try this and share my detailed review on blog. Stay tuned girls. One thing to add, I heard very positive response for this product.
This Charcoal face pack from Neemli is nothing but a bliss. I already love Neemli Lip scrub that I received in  last month's Glam Ego box and now super excited to try this.
FABB Review – If you love to try new beauty and makeup brands, buying GlamEgo box is definitely a smart decision because you receive amazing surprises every month. The most amazing  point to note "They are very affodrable and in-fact their year's or may be 6 months' subsription is extremely cheap", so go and subscribe.
Much Love
Yogita
You may enjoy reading –