Gel Nail Paints: If you are like me and your hand probably moves (expresses) as much as your lips when you speak; then you surely know the importance of well-painted nails. A fresh, beautifully done manicure aids them to express freely (in fact, they do tend to show off themselves just a tad more, after a manicure ;p).
One of the trendiest and trusted solution to make my hands and feet feel great is Gel Nail Paints.
More times than not, we get irritated with chipped or peeled away Enamel nail paints. We resort to keep our nails bare as it is troublesome with our time constraints to redo our nails often. Gel Nail Paints guarantees no chipping or peeling for at least 2 weeks. On top it, they maintain their shine so that your nail looks freshly manicured.
The Stigma attached to Gel Nail Paints and its slightly complex application tends to baffles many. If you are one of them Today is the day, let us enlighten you about them.
What are Gel Nail Paints?
Gel Nail Paints are basically, a liquid gel that turns into a hard, chemical-resistant coating upon curing. Curing is done by subjecting the nail under the UV light for 2 – 5  minutes or an LED light for 5 – 45 seconds.
In technical terms, the gel is made up of acrylic monomers and oligomers that bond together when placed under UV light or LED light. When done correctly, they stay intact on the nail with high shine and no cracking, peeling or chipping for at least a couple of weeks. If applied and removed properly it doesn't harm the natural nail.
How to apply?
Similar to the Enamel Nail Polish the Gel liquid polish comes in a bottle or a pot along with a brush. The Gel liquid is painted on to the nail. The self-leveling consistency doesn't tend to leave a brush stroke. Since it will not dry/set until it goes under the lamp any slips are much easier to rectify.
After curing, the gel completely hardens leaving a  sticky layer. This helps the second coat to bond easily. Curing needs to be done after every coat. A topcoat is used to seal the gel polish and add a finish matt or shiny; after curing the nail is wiped with a cleanser to remove the sticky layer over it.
Supplies 
Along with the usual Manicure kit of nail clippers, nail file, nail buffer, and a cuticle pusher the supplies required for a Gel Nail Paint manicure are Gel base coat, gel color polish,  gel nail top coat, gel nail cleanser and alcohol wipes or ethanol. Of course the drying light depending on the product either UV or LED.
How to remove?
Unlike Enamel Nail Paints, they can't just be wiped with the acetone due to the chemical resistance. You would have to soak the nails in acetone for several minutes (gel nail cleanser) to loosen up the hardened gel from the nail.
Harm to nails
Gel nail polish is not bad for your Natural Nails until you pull/pick on it. The major harm comes when the removal process is not done properly. Incorrect removal will peel away part of your natural nail, eventually making it weak and thin.
Precautions
Some theories suggest that exposure to UV light can harm your skin and increase the chances of cancer. Try and wear the fingerless gloves during the procedure to avoid absorbing UV light directly.
As an added protection you can apply Cuticle Oil to nourish your nail bed and encourage strong growth, after the removal of the Gel Nail Paint. Also, try and give your nails some breathing/resting time between the Gel Manicures.
Is there an easier way out – MyGlamm Two Of Your Kind Nail Enamel 
Both application and removal of Gel nail paints seem tedious and time consuming for a DIY. Additionally, Gel manicures from a salon are not always feasible, whether due to the time or money concerns. In other words, isn't there a shortcut to beautiful long-lasting nails.
Well, your wish seems to be MyGlamm's command as they have a range of Gel effect polish. The range of nail paints mimics the just stepped out of the salon finish even after days. 
My Review for the MyGlamm Two Of Your Kind gel finish nail paints
The brand stands true to its claim of being Durable and long lasting. The application was smooth and doesn't leave brush strokes. Being the only product in India that offers Duo packaging, you not only get two shades at the price of one but can also indulge your creative side with easy nail art. Available in 12 different color combinations the product is a bargain at Rs. 390.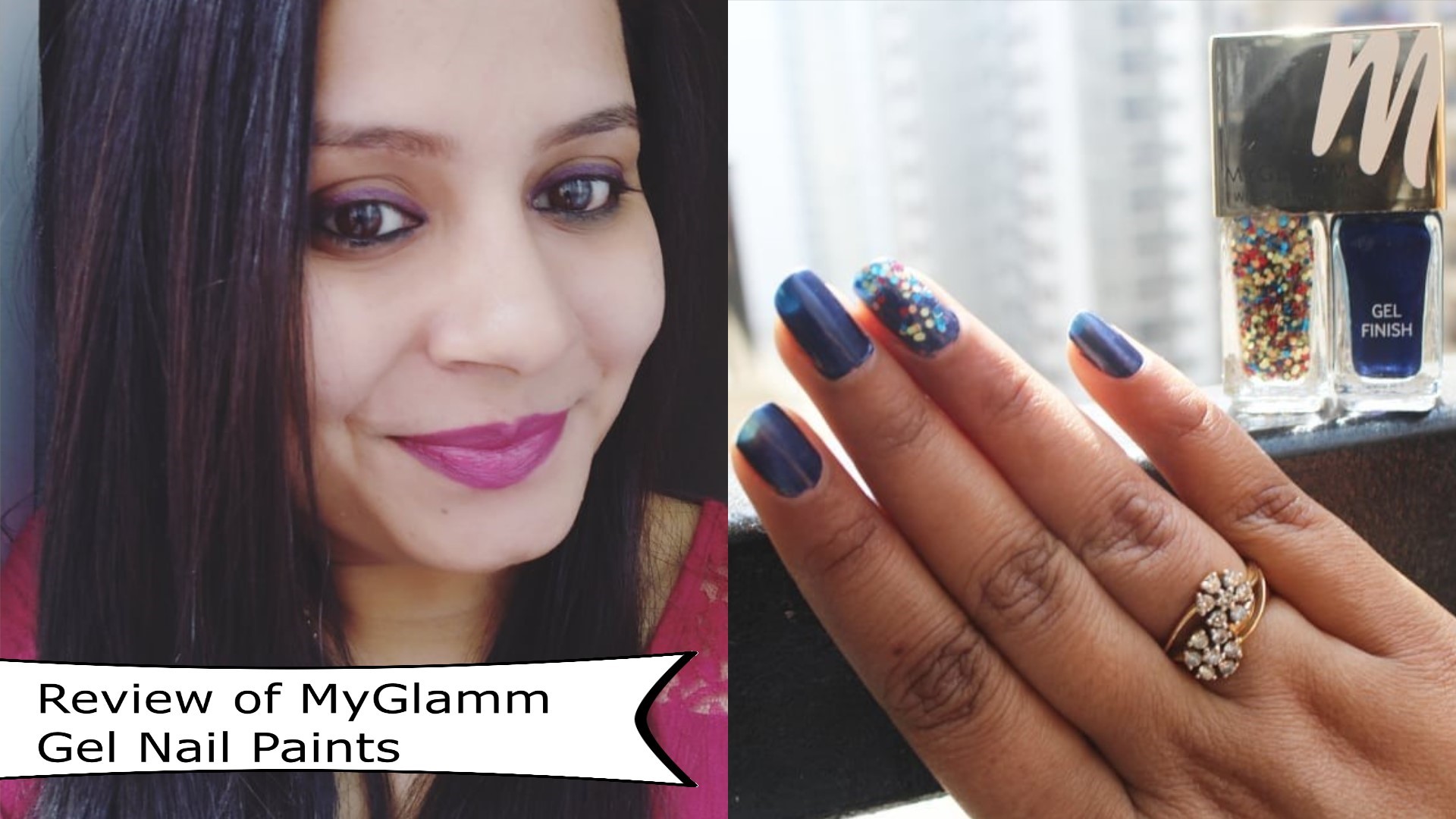 MyGlamm Two Of Your Kind gel finish nail paints gets big thumbs up from us. Need a more detailed review of the product, let us know. Please leave your own review of the product in the comment section.
Have you tried the Gel Nail Paint at a Salon or at home? Do let us know your experience.
P.S. Still have some question about Gel Nail Paints, feel free to ask us.
Read similar blogs –