Finally, Winter is Here!
Hey guys, today I have something really new and a different post planned up for you people. There have been a long period of time I have been reviewing products, letting you know fashion trends, several goody-stuff to you all guys. But hey! Flaws too are an important part of our life.
However, not being philosophical but wanted to share with you guys a kind of review, rather a product that I regret buying. I decided to share with you guys this since, if you would like to invest in any such products you too can test it first and then buy. However, all the review about the product is mine, and it might have worked tremendously for you, might be in one of your best product list, but for me it was a total Nay!
You guys might be knowing how amazingly I love eyeliners and the recent colored liner trend had made me love them more. Since it was an experimental trend that I was trying out so did not wanted to invest in an expensive product yet an affordable one.
So, I got myself the Miss Claire Artist Blue Pen Eyeliner in the shade Indigo Blue . I had heard a lot about this brand by close friends and fellow bloggers reviewing them. So, I went and purchased this product. The Miss Claire is known for its soft and cream lipsticks, which are also a perfect dupe of NYX. I even own one shade and no doubt the lip shade i have from Miss Claire is nice.
I got it from Habbana and it costed me  RS. 350, however, if you cannot find it in a store near you can also buy this from online makeup stores.  But the only problem will be the high price. To me the liner seemed affordable, since getting a colored pen liner at 350 is a steal.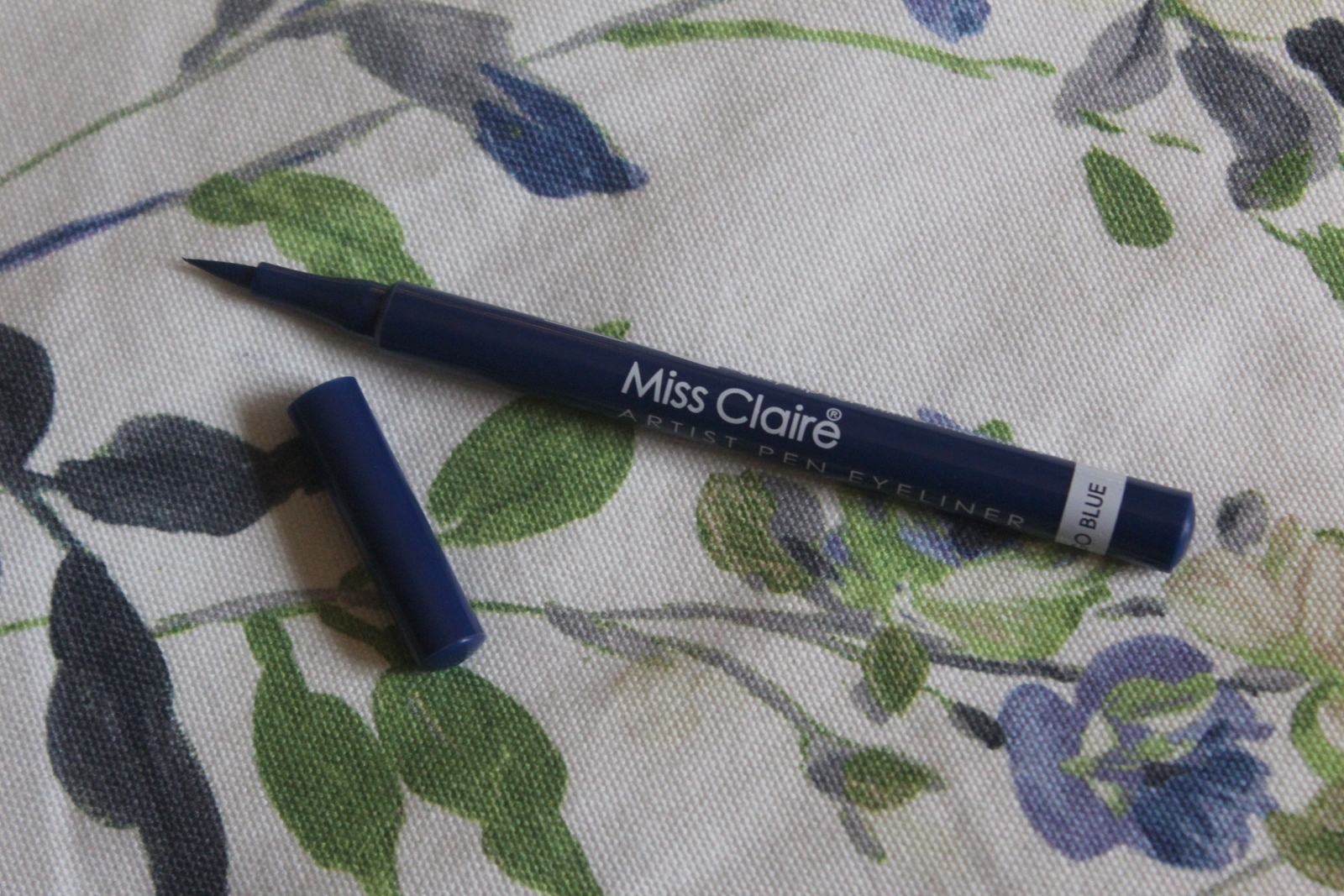 The pigmentation did not work for me. The black liner is far more pigmented than the blue one. I had to apply the liner a number of times to get the perfect shade of stroke. This is one thing that makes me feel really bad, a liner is not perfect if one has to be rubbed on your eyes. Though the felt tip was nice. The Miss Claire Pen Eyeliner doesn't last for long. If you have to go out and you are wearing it, the coat of the liner will fade within 2-3 hours. Again a big Nay for me..
For shoots, I need my liner to stay for a good span of time, I definitely cannot touch up after every two hours, still not getting the perfect pigment.
Despite being affordable eyeliner it surely did not work for me. And this has surely added to my "products I regret buying list".
So, with this, it was all about the review of Miss Claire Artist Blue Pen Eyeliner or Product I regret buying. If you like to read about more such products or anything new, let me know in the comment section.
You may also enjoy reading –