Hey Gorgeous,
Welcome to FABB (Fashion and Beauty Blog) where we give honest reviews of products and want every girl to look special in her own way. Today I would like to share my views about the product without which we just can't survive the summers.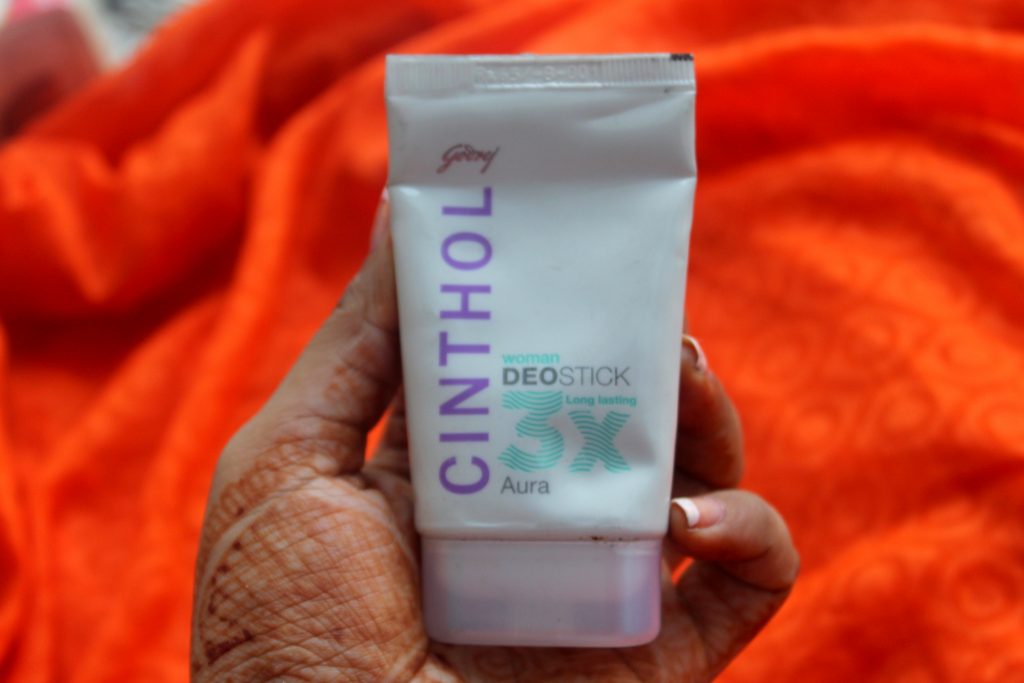 Irrespective of where you live, the summer is always harsh upon us, the harmful UV rays, scorching heat and not to forget the sweaty temperature is enough to spoil our mood. But somehow summer, even makes many of us happy- we can try cool, fashionable clothes, enjoy ice creams and the beaches.
But during my daily chores, I often get frustrated of the sweat that drips across my face, back and it just turns me off. And the last thing I want is sweaty underarms (tacky), even though I have tried various products in the past, but today I would like to share my experience with the famous Cinthol Deo stick. It comes in three different fragrances for women- Aura, Swirl, Spark. I am going to review about Cinthol Deo stick Aura.
Read further to know if the product was worth the money or not.
Packaging:
For the packaging, I would give a 10 on 10. The deodorant stick comes in an inverted V shape, packaging and has a plastic cap that protects the content from spillage. There is a slit through which the cream oozes out and makes it easy to apply. Hence, I find it a travel-friendly deo stick, which you can easily stuff it in your bag and go anywhere. Seeing the packaging I thought it was a roll on deo stick, instead, it turned out as a cream applicator.
Ingredients: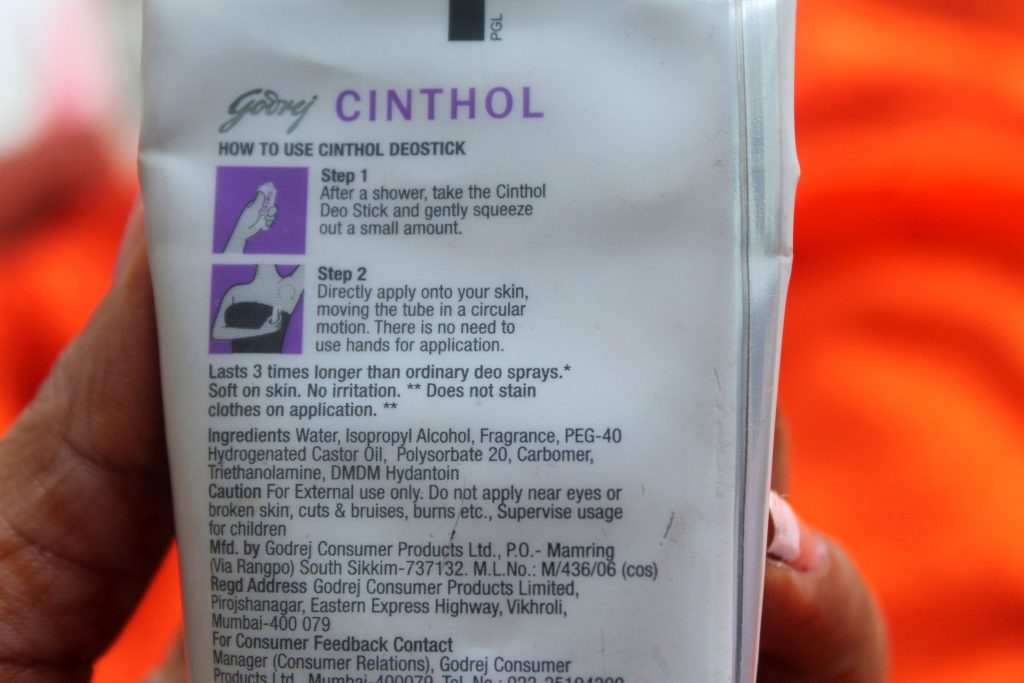 Fragrance:
Cinthol Deo stick Aura has an intense floral smell and I instantly liked it. The sweet, refreshing smell of the deo stays maximum for half a day. The smell  isn't very strong, which is good, but I was expecting the fragrance to last for a longer duration (slight disappointment). If you have a penchant for a floral smell, then you would like this product.
Texture:
As I mentioned earlier, the deo stick isn't a roll on and has a creamy texture. The good thing about the deodorant is that even though it's creamy it easily blends into my skin. The brand claims that the creamy finish wouldn't stain the clothes, and it stands tall to its claim. I haven't stained my clothes due to the creamy texture. I have always tried spray or roll on, hence the cream base deo stick was a new experience.
Many of you would think that a cream based deo for summers ain't a good idea, but I would say that because it easily fuses with the skin, you wouldn't feel that you have applied the deodorant.
Formula & Application:
Like any other deodorant, it has alcohol content and has hydrogenated castor oil which is mostly used in making deo sticks. The application of the deo stick is easy and similar to that of a roll on. After my shower, I squeeze out a bit of the product and then with the help of the tube, I slather the creamy deodorant on my underarms, elbows, knees, it takes few minutes to absorb into my skin.the deodrant gives a cooling sensation and as the alcohol content is less, I haven't felt irritation or rashes.
Once I apply it, I instantly smell the fresh, floral fragrance which makes me feel fresh in the summer morning.
My View:
The creamy deo stick was a new experience and I have a neutral feeling for it. The issue I had was the creamy texture which can be troublesome when I am on a run. Also, the smell is great but I wished it lasted for longer hours. I haven't experienced any darkness of my underarm skin, so that has been a good sign.
Apart from that the price of the deodorant is reasonable which would catch the interest of all. I would recommend for those who are looking for a refreshing smell and those who are ok with the creamy texture.
Price: 40g for Rs.69
Where to buy: Amazon, Nykaa, Purplle, Snapdeal
Pros of Cinthol Deo Stick:
1. Travel-friendly packaging
2. Refreshing fragrance
3. Soothing and cooling sensation
4. Instantly absorbing
5. Pocket friendly
6. It doesn't irritate the skin
7. Easily available
Cons:
1. Creamy texture
2. The fragrance isn't long lasting
You may also enjoy these reviews –