Hello Sunshine,
The Body Shop India completed 10 years this month and is celebrating its 10 anniversary. Many congratulations to TBS on completing 10 years and on this happy occasion I decided to rave about how much I love TBS products. I am dedicating a few of my posts to The Body Shop products, I hope you all enjoy reading them.
Today I am going to review about Atlas Mountain Rose Body Lotion from TBS. I love lotions that hydrate my skin and make it supple and baby soft. I keep experimenting with new products, but I just can't stop raving about this product. It is everything that I wanted and does wonders for my skin. Let us begin with the review of my favorite product from TBS.
Price: 250 ml
Packaging:
I believe TBS has changed the packaging of this body lotion, as TBS site shows me a different type of packaging. However, I love the packaging as the body lotion comes in a long, strong, slim bottle with a pump dispenser. The bottle is transparent and has a pink label reminding me of roses. I have carried it with me when I am traveling to different cities and there hasn't been any spillage yet. So it would be best to call it a travel-friendly packaging.

Fragrance:
Now this is something to rave about. The name says it all, it has the fragrance of mountain roses and musk which isn't very strong or it doesn't have any artificial smell. The smell of dewy roses would bring the feeling of welcoming the Spring. I love the pleasing rose smell which lingers for a longer time on my skin and gives a refreshing smell.
Also Read –  Best waterproof makeup Products for monsoon season
Texture:
The body lotion is white is color and has a runny consistency which absorbs into the skin in no time. I love that the lotion isn't creamy and is perfect for the Indian weather, especially during the summers. It gives a cooling and light feeling and the best thing is that it blends with my skin.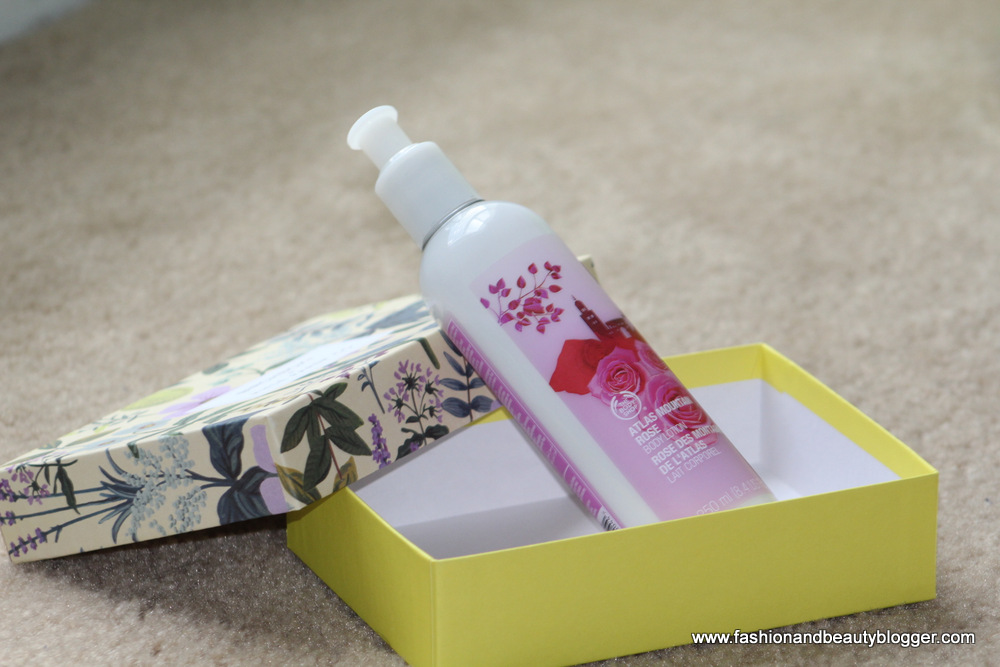 Application & Effect:
I apply it regularly all over my body after my shower and at night time. As it has a pump dispenser only required amount of lotion comes out which is easy to apply. This is my second bottle, so I would say that it perfectly hydrates my skin and the presence of shea butter and Brazil nut oil makes my skin healthy and softer.
After applying the lotion I find a cool sensation that is just needed for the scorching summer. It instantly turns my skin smooth, so I find it a total hydrating product. I have used this for a long time and hence would say that it has played an important role in making my skin baby soft and smooth.
Price: Rs.950 for 250 ml
Pros:
1. Amazing packaging.
2. The fragrance of mountain rose and musk is mind blowing.
3. Highly absorbent.
4. The lotion has a light texture which is perfect for the summers.
5. Hydrates the skin perfectly and makes the skin baby soft.
6. Easily available.
7. Makes the skin instantly smooth and soft.
8. Perfect for ladies with oily skin.
Cons:
1. Might be pricey.
My Opinion:
Those who have a penchant for the rose scent, this product is a must try. I love the light weight of the lotion and that it quickly absorbs into my skin. The price might be quite high, but it is value for money. It does an excellent job of hydrating the skin and making it baby soft. I would definitely recommend those who have dry skin and those who are looking for a lighter texture with rosy scent.
Also Read – Maybelline Eyestudio Lasting Drama Gel Eyeliner – Review, Swatch and Price
Will I buy this product again?
Definitely, this is my second bottle, so yes, I would love to buy this product 🙂
FABB rating: 4.5/5
Much Love
Yogita Aggarwal