Amsterdam is beautiful, fascinating, and unique, so shopping here is always an adventure. This is a city that can offer everything you've ever dreamed of and more. From quirky shops to designer boutiques, your shopping in Amsterdam will be exciting and help you discover some new original things.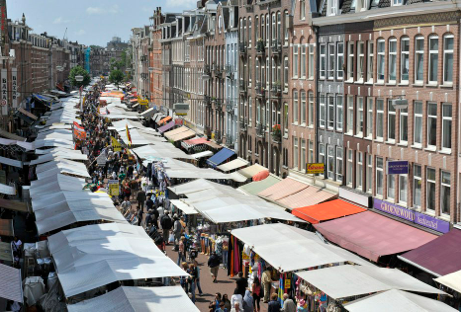 There is a multitude of stores for you to choose from, but be sure you don't miss these five.
Top 5 Places to Check When Shopping in Amsterdam
1.      Kalverstraat and Leiderstraat
Kalverstraat and Leiderstraat are two shopping streets where you should go when shopping for branded clothes. They are located near each other and house enough boutiques to keep you occupied for hours. The only thing that will determine the length of your stay is the size of your bank account.
Some of the shops you can find here include Filippa K, Paul Warmer, Karen Miller, H&M, Zara, Esprit, and Mexx. You can find a comprehensive list here.
2.      Negen Straatjes
The Nine Streets shopping area is exactly what the name says it is. These are nine narrow historical streets that host some of the most interesting stores in the city. You should definitely plan to shop here on the day you are enjoying walking tours in Amsterdam. This shopping area allows you to truly soak up the unique atmosphere of this place. Therefore, it'll be a great way to enhance the feelings you get when learning about the city's attractions and history.
The Negen Straatjes is the place to shop for and admire art, vintage, and incredible handmade goods. Price ranges vary greatly in these eclectic shops, so everyone can find something special. You can also relax in one of the charming cafes with original design and simply admire the burst of color and activity around you.
3.      Museum Quarter
You are sure to visit the Museum Quarter during a trip to Amsterdam because many of the most notable attractions are located there. This is also the place to go if you are looking for upscale shopping.
This part of the city houses shops from the leading fashion brands in the world, including Dior, Louis Vuitton, DKNY, and Ralph Lauren. These aren't budget-friendly stores, but you might get lucky during sales.
4.      Haarlemmerdijk
Haarlemmerdijkis the street where you should go when shopping for non-luxury items. It's a great place where everyone can find exactly what they are looking for, as you can see from the list of local shops.
There are several second-hand stores and many independent labels that can hide some jewels in their stores. This is also your best option for specialty food items and you can buy some traditional Dutch goods in several shops.
5.      Utrechtsestraat
The Utrechtsestraat is a nice shopping area in Amsterdam that offers a variety of concept stores. Studying them is as exciting as going through an art gallery. There are also many cafes and restaurants here, so you can take a break and enjoy people watching.
If you are into music records, you have to visit Concerto, which is one of the biggest record stores in the city. It's a paradise for any music lover.