The recently concluded India Runway Week was chock full of inspired designers and their inspiring designs. We take a look at the ensembles as they were sashayed down the ramp, picking out details that anybody can add to their wardrobe, to transform into a style phenomenon.
Top 10 fashion trends from India Runway Week 2018
Wear Stripes to look slim –
Udayan Dalmia presented Chic designs and utility while keeping sustainability in mind. The spring summer 2018 collection is fully made in natural dyes and organic cotton, keep the waste to minimum. Oindrilla Das presented " PERFECT BLEND " with the old and new in crisp silhouttes and inventive designs .Ensembles which can be incorporated from day to evening look for the women of today who needs to multitask every day.
Jenjum Gadi presented  PHROZUH- the cotton yarn. His collection is inspired by cotton yarn which is use to weave the fabric for the collection. His collection is a pure balance of masculinity and femininity and inspired by this characteristics most of the silhouettes are gender fluid or unisex.
Gold and shimmer for summer weddings –
Nikhita Tandon's Mynah Designs is hand crafted by the skilled craftsmen from around the country. The fusion  of tradition and modernity can be seen in the collection,  adorns the beauty of today's women., Saaj by Ankita's collection celebrates the 'coming alive of the modern era', through the rhapsody of colors, that gently transcend into harmonious symmetries of vintage floral patterns in pinks, gold's, gorgeous greens and yellows made of beautiful silk embroideries and futuristic cuts, that synchronise to fill the void for a vintage-contemporary bridal space.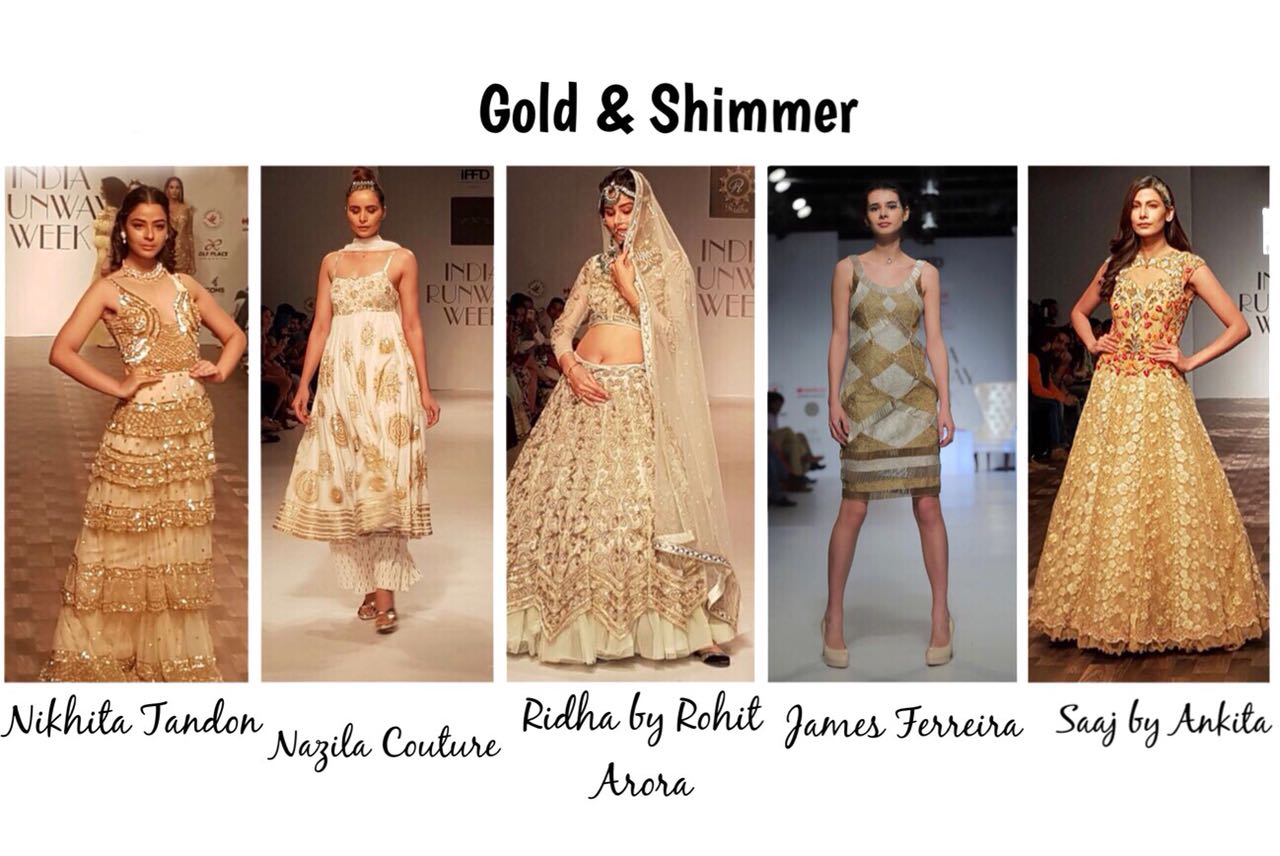 Designer Sadan Pande's collection was Kanchali Summer festive- a colorful collection inspired from a culturally rich state of Rajasthan. Known for its traditional colorful art and artistic traditions.  Kanchali is a pure reflection of Rajasthani culture with a twist of new silhouettes and drapes to compliment today's modern men and women. With vibrant colors, embroidery, mirror work and motifs to reflect the cultural presence of Rajasthan in it. Rohit Arora collection  is adorned by the botanical embroidery engraved on subtle mix of colours like pink , blues , green etc.  From the brides bouquet to the beautiful centerpieces few people realize the time, effort, and consideration that goes into the planning of a wedding.
Varsana by Vandana Jaju & Aditi Jaju presented "The Window", in broader term signifies the scenic view outside ones window on a summer morning. Beautiful flowers shining towards the sun, rustling leaves, branches of trees and the singing birds, create a story line of their Collection.  The palette of the collection descends through a range of bright as well as soothing spectrum of colors, perfect for a summer wardrobe.
Textiles looks from IRW –
Agnimitra Paul presented  her textile collection from Kolkata. It was hand weaved fabric from bihar. Geometric designs & Colourful. As label is known for bold and colourful feel. Hight fashion street wear with a twist of comfort and feel of handcrafted details.
It's kind of back to basic and beatheable fabric. Shravan's unprecented collection of Rags & Accessories solely crafted from Handwoven warp-faced Denim fabric using Ikat weaving technique. Beyond imagination is Denim Ikat and the concept mapped us to enter easiest part of our daily wear commonly known as Jeans. Denim Ikat collection of Indigo denim, done using VAT Dyes brings together comfort & ethnic essence with a strong positive, sensual and disruptive style.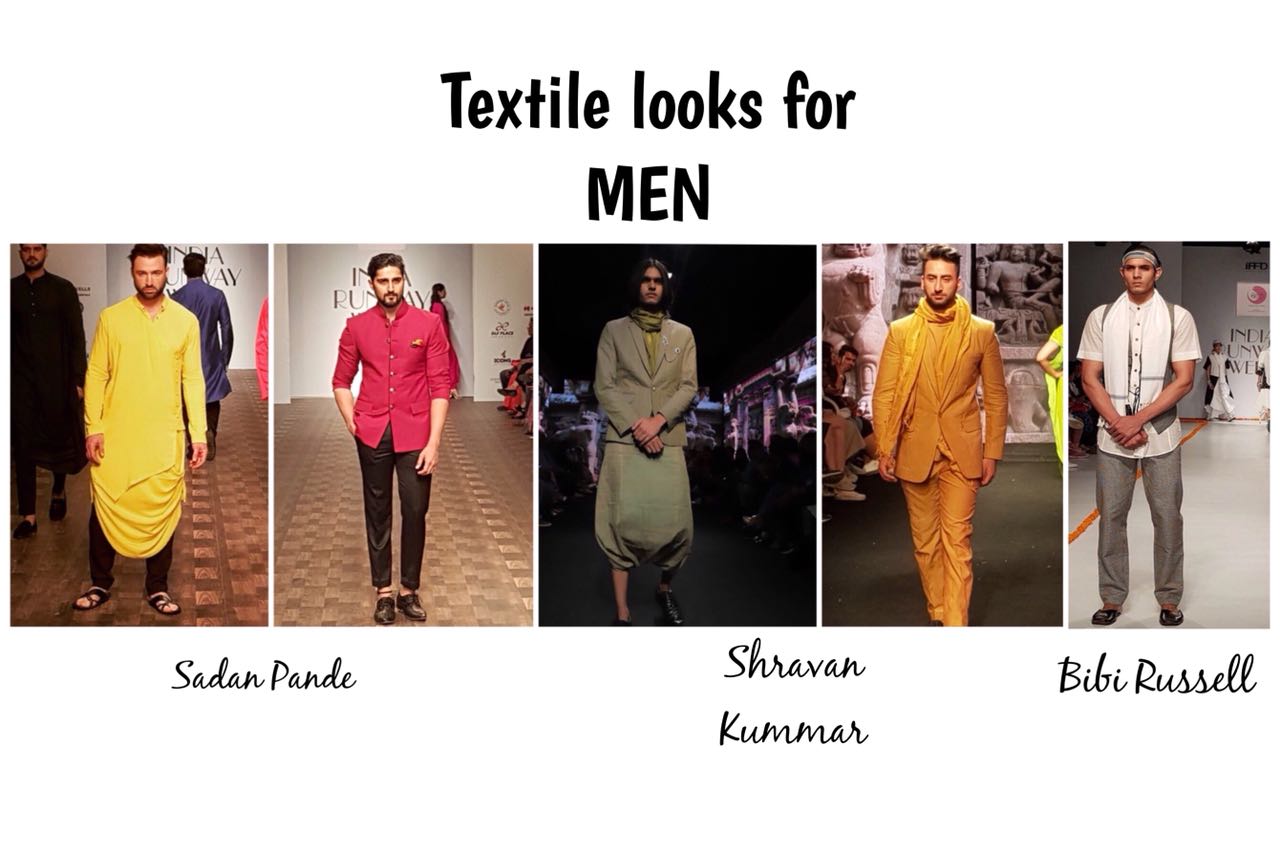 Collection of Denim Ikat is a blend of Cotton & Lycra. Daniel Siyem collection "ShaKiLum" uses the textiles of the tribes of Meghalaya to create a deconstructed, gender-fluid collection that highlights the unique tribal essence of the state within a modern and edgy collection. A slow fashion collection, it celebrates the beauty of stepping back and slowing down, thinking about the earth that sustains each of us and celebrating the continuity in nature. Niharika Pandey presented hand weaved fabric from Bihar in geometric designs. Her label is known for bold and colorful feel.  Her collection is a blend of High fashion street wear with a twist of comfort and feel of handcrafted details.
Pastels for this season – Kavita Aggarwals's bridal collection was a tribute to Pietra Dura's vivacity and a captivating look into new application for this age-old art form. The embroidery in her ensembles is a replication of Pietra Dura motifs – not so much in technique as in aesthetics. As crossover fashion doesn't merely adorn a wearer, it transforms her, she dedicate this Indo-western fusion to the modern Indian woman, who's rooted in traditions, yet open to fresh explorations.  Shivaanii R Singhania's line consists of draped gowns, peplum styles, fitted trousers and layered full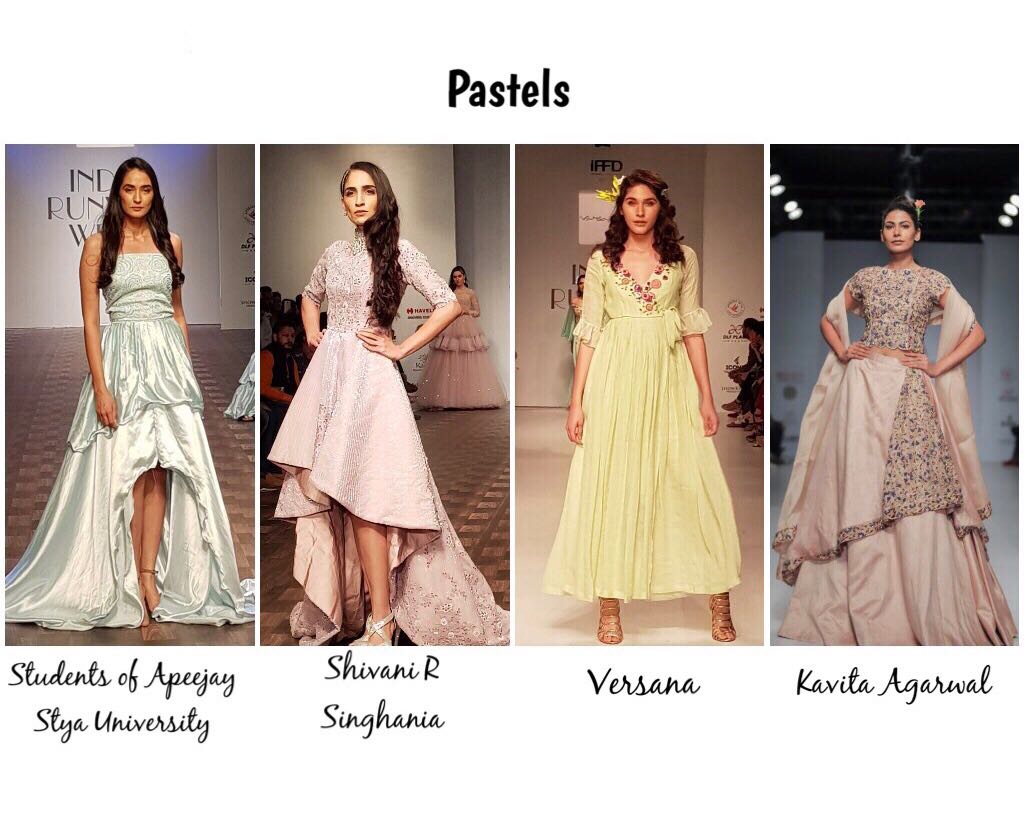 lengths. Soft and sheer fabrics like organza, tulle, satins have been combined with heavy-embellished embroideries to help balance the richness. In all, it's an exploration of fantasy rendered with glamour, passion and purity. Ridha by Rohit's collection was a mixed bag from the brides bouquet to the beautiful centerpieces few people realize the time, effort, and consideration that goes into the planning of a wedding. The floral patterns and arrangements into a garment are just one part of the battle. Silhouettes are their label's signature styles.
Nine yards glory– Ambica under her label named as Peeli kothi  showcased Banarasi saree collection. The collection was based on make in India textiles. .  Sunidhi Garodia's collection was based on the theme " IRO of life". IRO is basically a Japanese word which means color and the whole collection is inspired by the different colors and the meaning that each individual takes from it to their life. It's rightly said-"The soul becomes dyed with the color of its thoughts." And so does the collection reflect the happiness, the joy, the darks of colors and what it reflects into our lives. Hyderabad designer Shravan Kummar showcased textiles of sunrise state Andhra Pradesh. His collection was organically dyed and all handmade.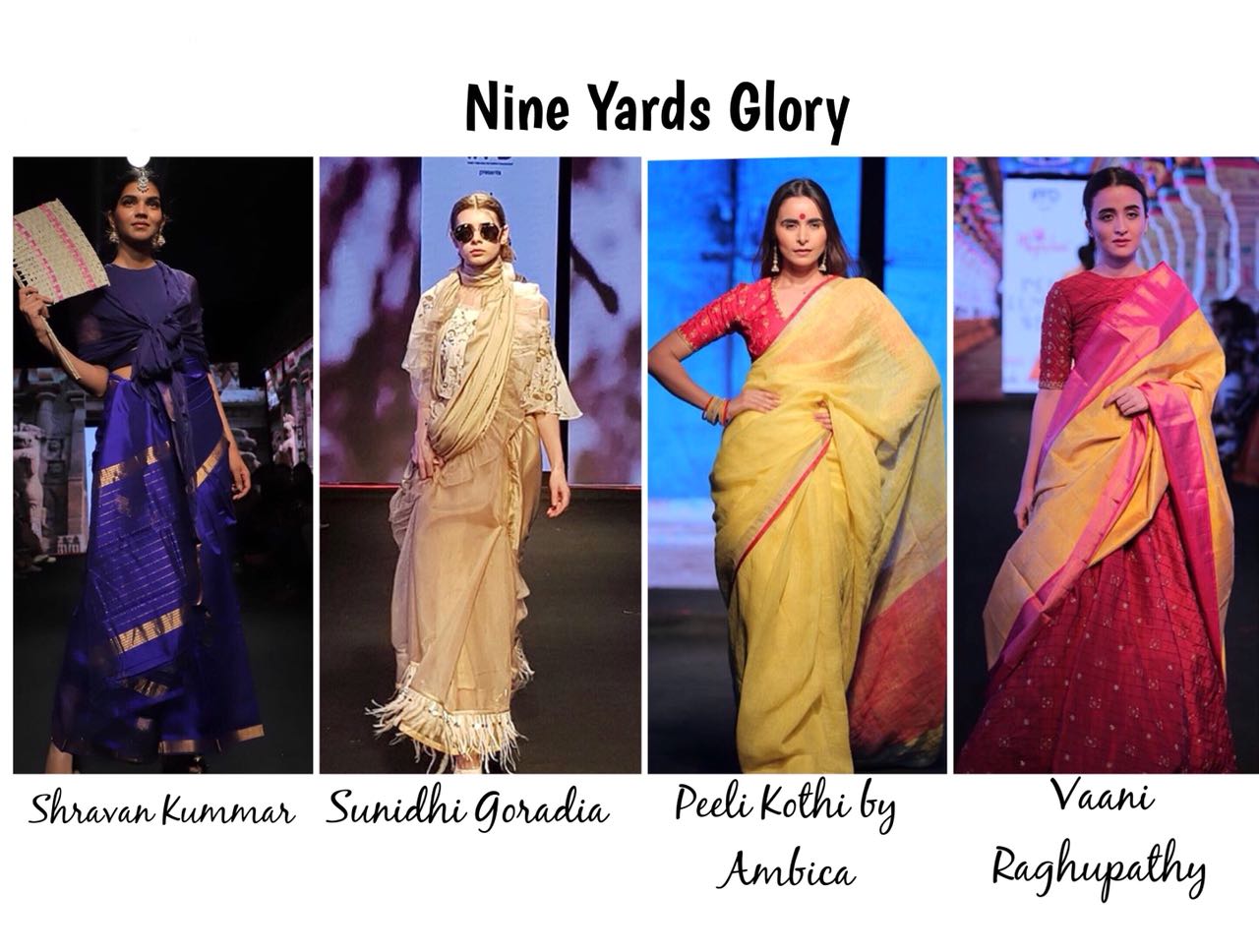 Jumpsuits for cool look–
Shefali Dhaka Sirohi- The Spring/Summer'18 collection is inspired by the pendulums. The silhouettes are asymetric balances. Panelling and pleating techniques have been used at frictionless points to create equilibrium between the asymmetry. The drapes move over the body in cowls like the pendulums do. The embroidery motives are imbalanced triangular pieces hung on balanced wires. Rich Silks, chanderi weaves, Organzas and Chiffons are used which signify the two extremes of the pendulum. Vagmi by Shradha Goenka's collection 'Walk in the Sky ' has been created to showcase female embodiment of enlightened energy.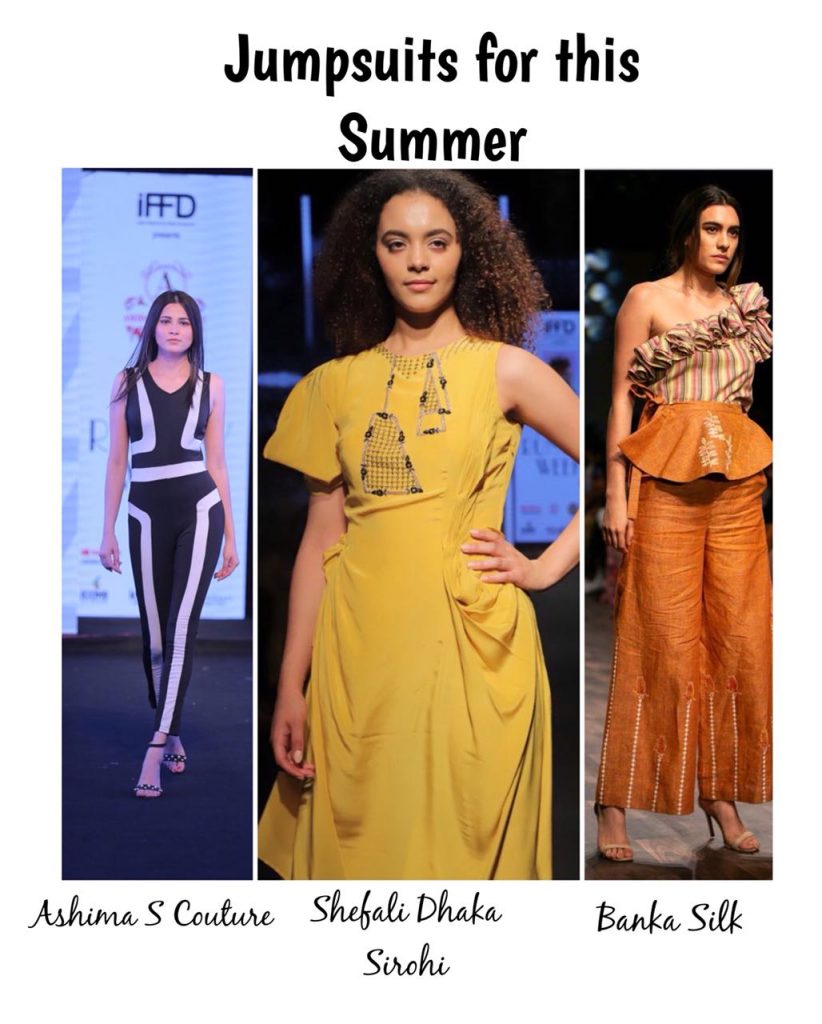 The garments are made for strong women of today's age who are liberated and free and no more tied to kitchen. Bold and playful silhouettes would be featured keeping modernity of Indian women in mind. Istuti and Vivek's collection aims to give you the natural comfort and ease, where ever you go. The collection enhance one's personality for various occasions, giving the feel home comfort. Designer believes in creating their trends by following nature.
You may also love to read –