Beautiful nails indeed add beauty to your hands. The lovely nailpolish make your hands look dainty too. I am very particular about keeping my hands look good and that is why I experiment a lot with new nail trends. I keep experimenting with various colors and sometimes perform nailart on my own. I am fond of glitter nailpolish too, so I bought Maybelline Newyork Colorshow Party Girl, Blushing Bubbly. It is shade no 115. This nailpolish comes with a price of Rs 150. At few online shopping sites, you can get it for lesser price as well.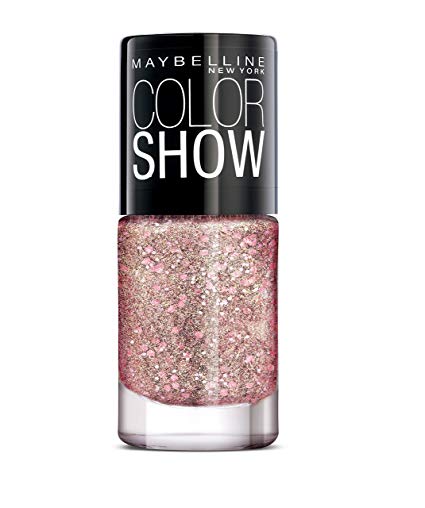 After applying, it gives your nails a bold look. The texture is bit rough but it does not bother much because while applying it is quite smooth and glossy. The pieces of glitters in this nail color give your nails a different look and blingy effect. The final finish will give a bit of matte finish. Since I have dusky complexion, I do not like anything too much glittery on my skin and nails. I was in dilemma before buying this one. After one of my friends suggested that it is a good one, I bought this and it looks good on my nails.
The downside of this nailpolish is that it takes sometimes to get dry completely, so you cannot touch anything for at least 10 minutes. After it gets dried, the nails look perfect for parties and goes well with the partywear dresses. The other shades in this range look more glittery, but this one has lesser amount of glitter chunks, so after application the color of your nails look muted. You can wear this nailpolish for everyday use. I think this nailpolish would go with every kind of complexion.
If we talk about the staying power of this nailpolish, it stays for almost 10-12 days if your hands are not much engaged in the household work.  If you have to do household chores, then I recommend that you can apply a transparent topcoat over it so that it stay for longer. It is not noticeable enough even if it starts chipping off, atleast for the few days. If we compare it with other nailpolish in this range, I believe that the staying power is quite good.
Coming to the removal of this nailpolish, it is bit tough to remove these kind of glitter containing nailpolish. You cannot remove this nailpolish like you remove your other nailpolish. I suggest you to use a good quality acetone free remover to remove these glitter based nailcolors.
Removing the nailpolish would not be as easy as removing the normal nailpolishs. You can take a piece of cotton, put few drops of nailpolish removed in it and dab it on your nails for 30 seconds and then remove it. If you are someone who does not like glitter nailpolish, this is not for you.
Overall, I am impressed by the quality of nailpolish which Maybelline has come up with. It is a nice glitter nail paint in an affordable price. So be high headed and wear this nailpolish like a stunner.
Also Read –