A good moisturizer is the first need to keep your skin healthy. Today I would like to share the reviews of Biotique Advanced Ayurveda morning Nectar, Visibly Flawless Skin moisturizer.   One of the main reasons why I bought this moisturizer is because it is 100 percent vegan and not tested on animals. It is completely my personal choice to buy such products which are cruelty-free.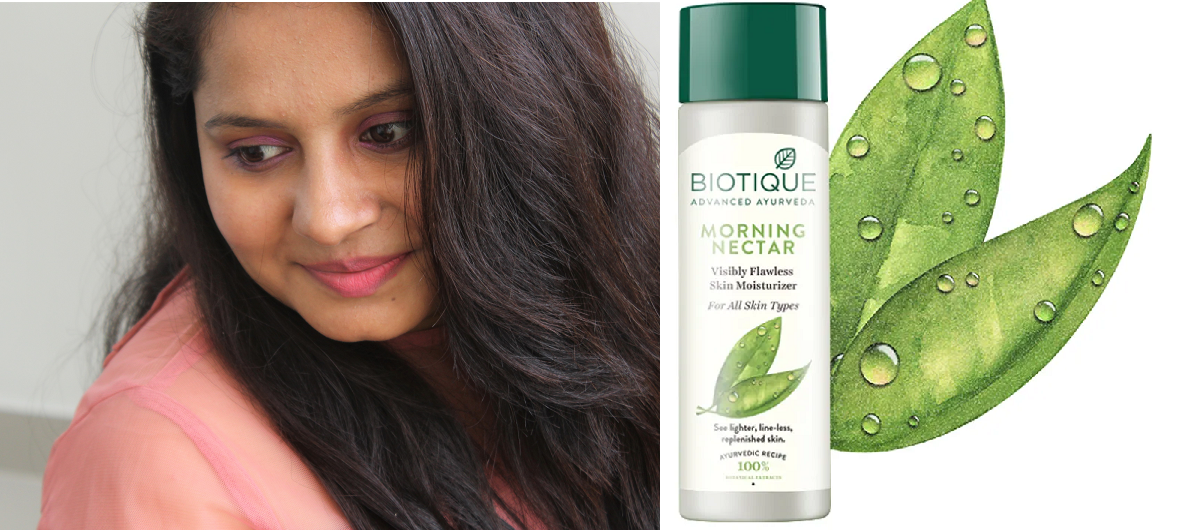 For long, I was looking for a good moisturizer that could keep my skin hydrated throughout the day. I never wanted something which could affect my skin tone to give it a brighter tone.  I have wheatish skin and I love that. A friend of mine is quite fond of Biotique Skincare range of products. She introduced me to this moisturizer.  After her recommendation, I searched for information about this moisturizer and I found out that the product reviews were good.
Biotique Advanced Ayurveda morning Nectar keeps my skin supple, soft and hydrated throughout the day. After using face wash in the morning, I apply this moisturizer on my face. The brand claims that the product is suitable for all skin types. I have combination skin. My T-zone is quite oily.  As per my personal experience, it works well with the combination skin too. One, it will keep my skin hydrated for longer hours, two, it can serve as a base moisturizer when I apply foundation. I apply this moisturizer before I apply the foundation. It provides my skin a perfect base.
To apply this, take a pea-sized amount of the moisturizer. Then spread it on your skin. You need to massage the moisturizer properly so that it gets absorbed into your skin. You may feel that your skin getting sticky after the application, but after 10 to 15 minutes, you will not feel that. Instead, there will be a glow on your skin.
What does the brand claim?
You will see lighter, lineless, replenished skin
The price of this moisturizer is not too high. A bottle of 120 ml comes for Rs 199. It is organic and free of any kind of preservatives. It contains 100 % botanical extracts and has been formulated by ayurvedic recipe.
The moisturizer comes in a cylindrical shaped bottle and it is quite convenient to use. It is also easier to use while you are traveling.  If you are looking for a moisturizer that keeps your skin hydrated and free of chemicals, this moisturizer is the best buy for you. I hope this review was helpful to you.
You may also love to check –