In this post, I will be reviewing Bannerghatta National Park, Bangalore. Do check the detailed blog for available wildlife speices, timings, ticket price, travel tips to zoo and pictures.
Hi Everyone,
You might don't know but we recently moved to Bangalore and it's been a month here. Last weekend we planned a trip to Bannerghatta National Park with our friends. It was a sudden trip so we could not make our bookings in advance, but the fun we had during our visit is unaccountable. I have many things to share with you all about my amazing experience. Lets begin…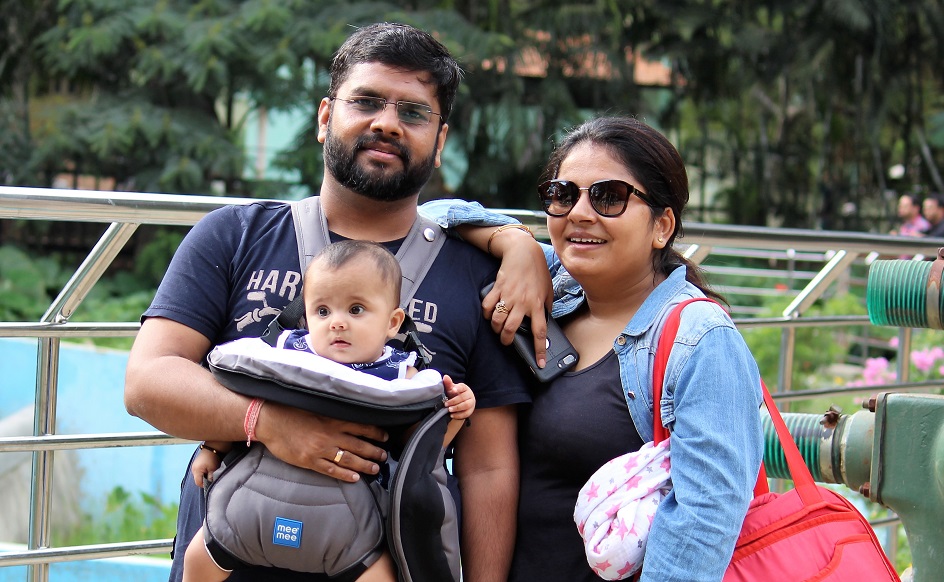 We reached the park at around 2pm and since it was weekend, the crowd at the park was huge.
Where is Bannerghatta National Park?
The park is located 22 Kms away from Bangalore and it has a plethora of Flora and fauna. This park was established in 1971 and spreads over an area of 104.27 sq. km. This National Park houses attractions like India's first Butterfly Park, A Zoo, an aquarium, Snake Park, crocodile farm, Prehistoric animal's park and a museum. The region has 10 reserve forests of Anekal Range from Bangalore forest division. The most popular activity of the park is the jungle safari that brings you close to the wonderful wildlife dwelling in their habitat.
Why must we visit Bannerghatta National Park?
Visiting National parks are great fun as they bring us close to nature and help us forget our everyday worries. Nature lovers and photographers can enjoy visual and sensory treat during their visit to the park as it has an assorted selection of wildlife. The place is blessed with nature's bounty and provides a unique learning experience. If you are looking for a natural retreat or an adventurous holiday, it is a destination for activities like trekking and hiking also.
Jungle Safari:
The Jungle Safari is one of the most popular activities at Bannerghatta and during this trip, you can spot both herbivorous and carnivorous animals. The grand safari is 8Kms long one way. The lion and tiger safari is about 11kms long both ways. The tickets to the jeep safari sell out quickly during the weekends and then you have an expensive option left of AC buses. During the weekends there are long queues for the safari trip so we suggest that you should book tickets in advance. In case you have not booked your tickets earlier, be ready to face long queues in the merciless sun. If you have a small kid like us, then opt for an AC bus instead of Jeep Safari.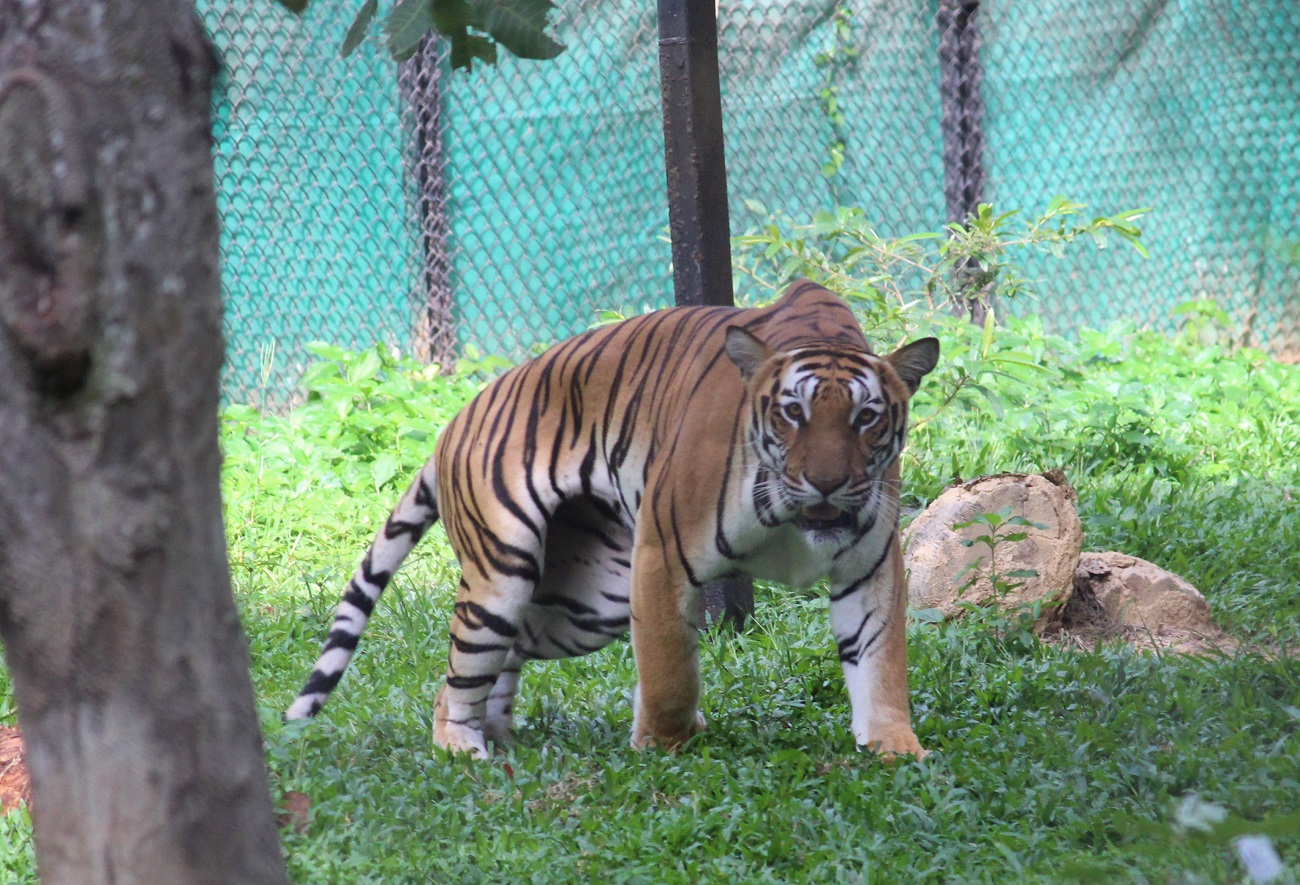 Inside the Jungle:
Visiting the National park is a great experience in itself as you can spot the amazing wildlife there. The kids enjoy a lot and the young people can connect with nature. These trips are perfect for families to bond together and kids can learn a great deal. If you are a photographer, then this National park has picturesque and astounding greenery and forests with numerous beasts and wildlife wandering freely in their natural habitat, so you can get some of the best clicks. Since it is so close to the city of Bangalore, it is a perfect weekend getaway.
The Park Safari Trip:
The arrangements inside the park are quite systematic with dedicated staff members and we board the buses according to our position in the queue.
The bus windows are protected with wire net and we felt very secure inside. We got ready with our cameras and mobile phones to capture images of wildlife and wilderness and set out for the amazing adventure inside the National Park. The park has been divided into different parts for Jungle Safari and the first one is Herbivorous Safari. In this part, you can spot Bison, Chital, Sambar, Sloth Bear, Mouse deer, Porcupine and wild boars. After this safari, we entered the bear safari where we spotted numerous bears moving about or even sitting on the road. The third part of the safari was elephant safari where we witnessed elephants near the lake. The fourth part was the lion safari, which was quite exciting as we spotted two or three lions wandering in the lush green surroundings along with their cubs.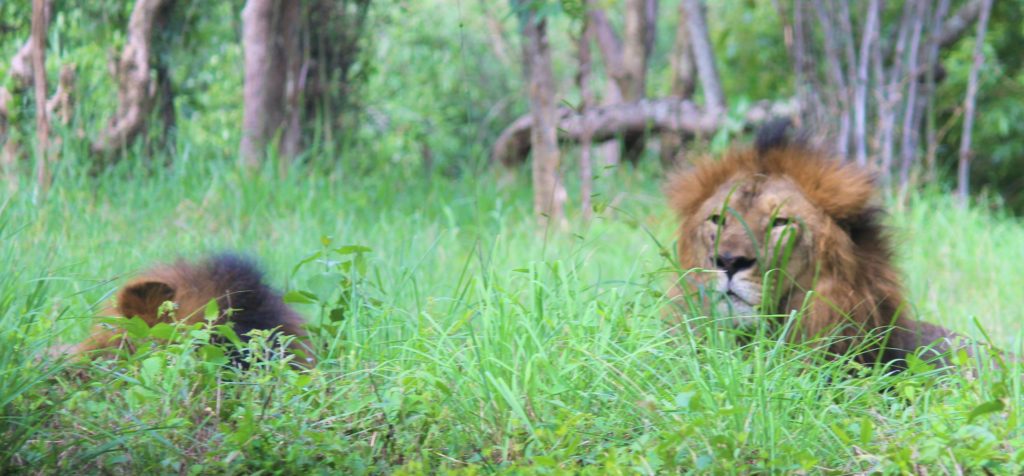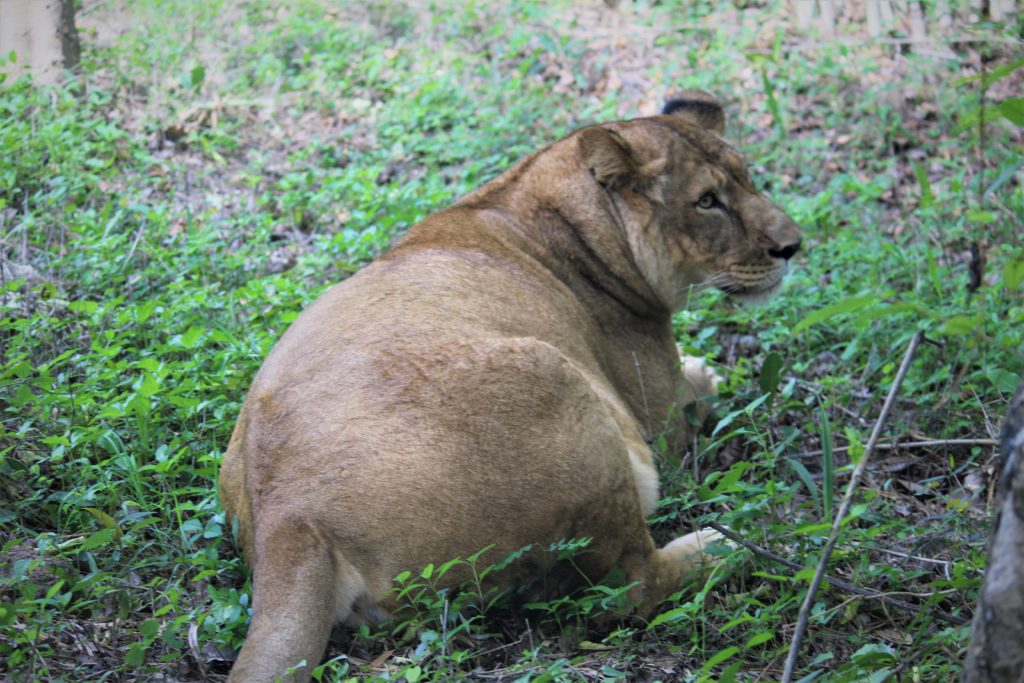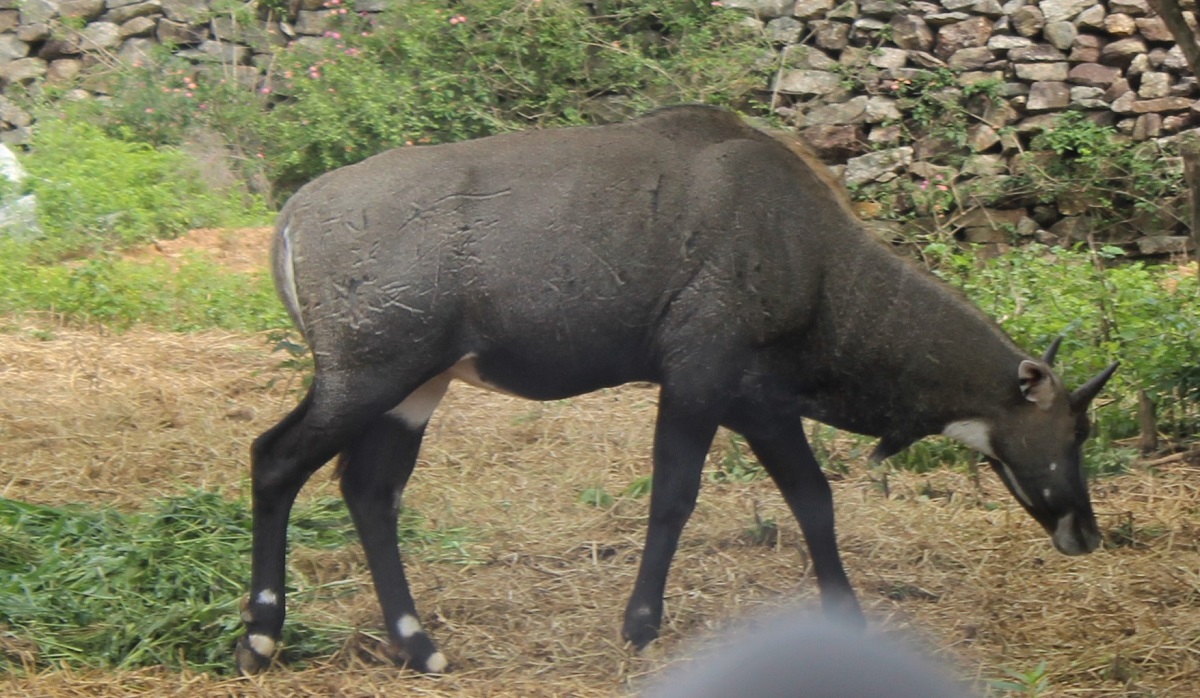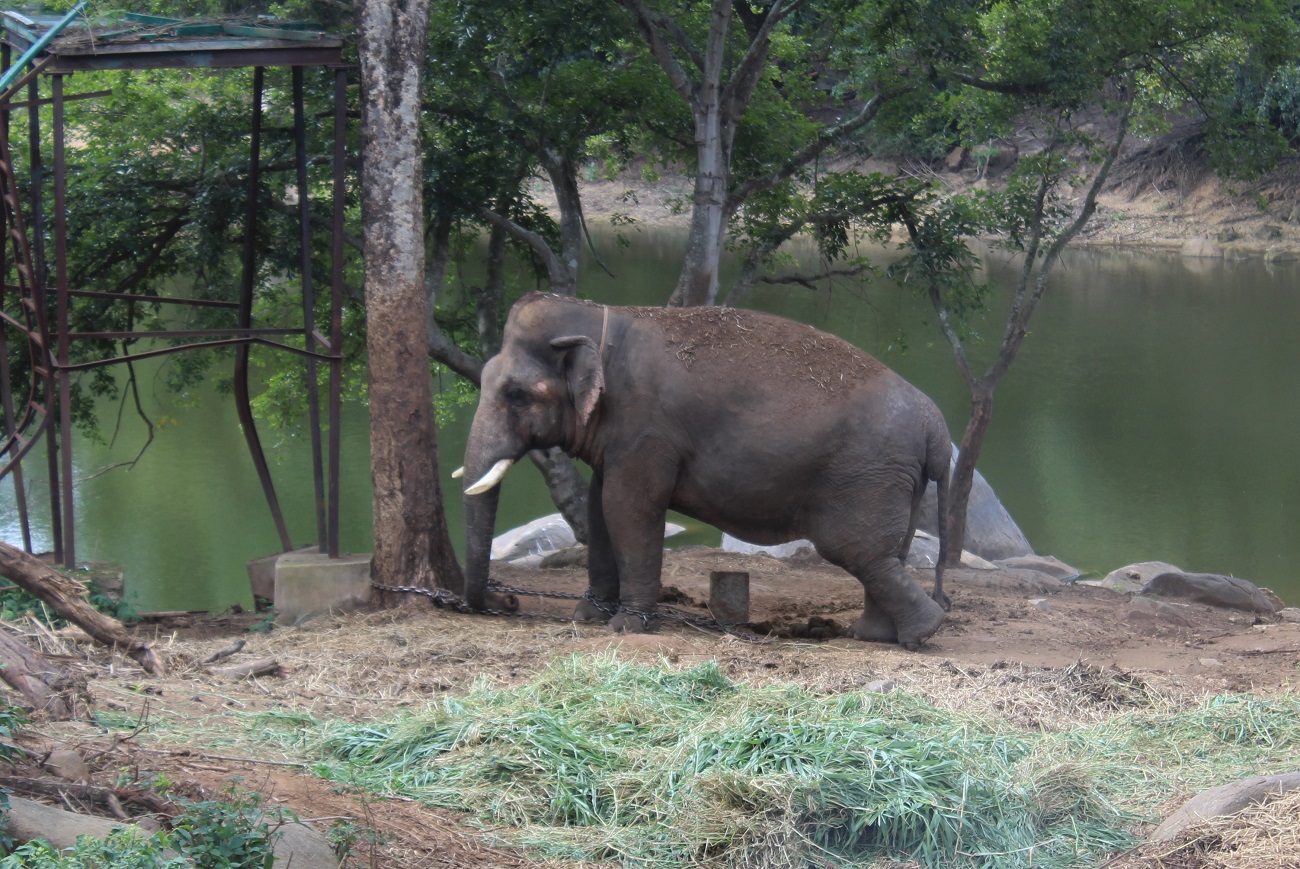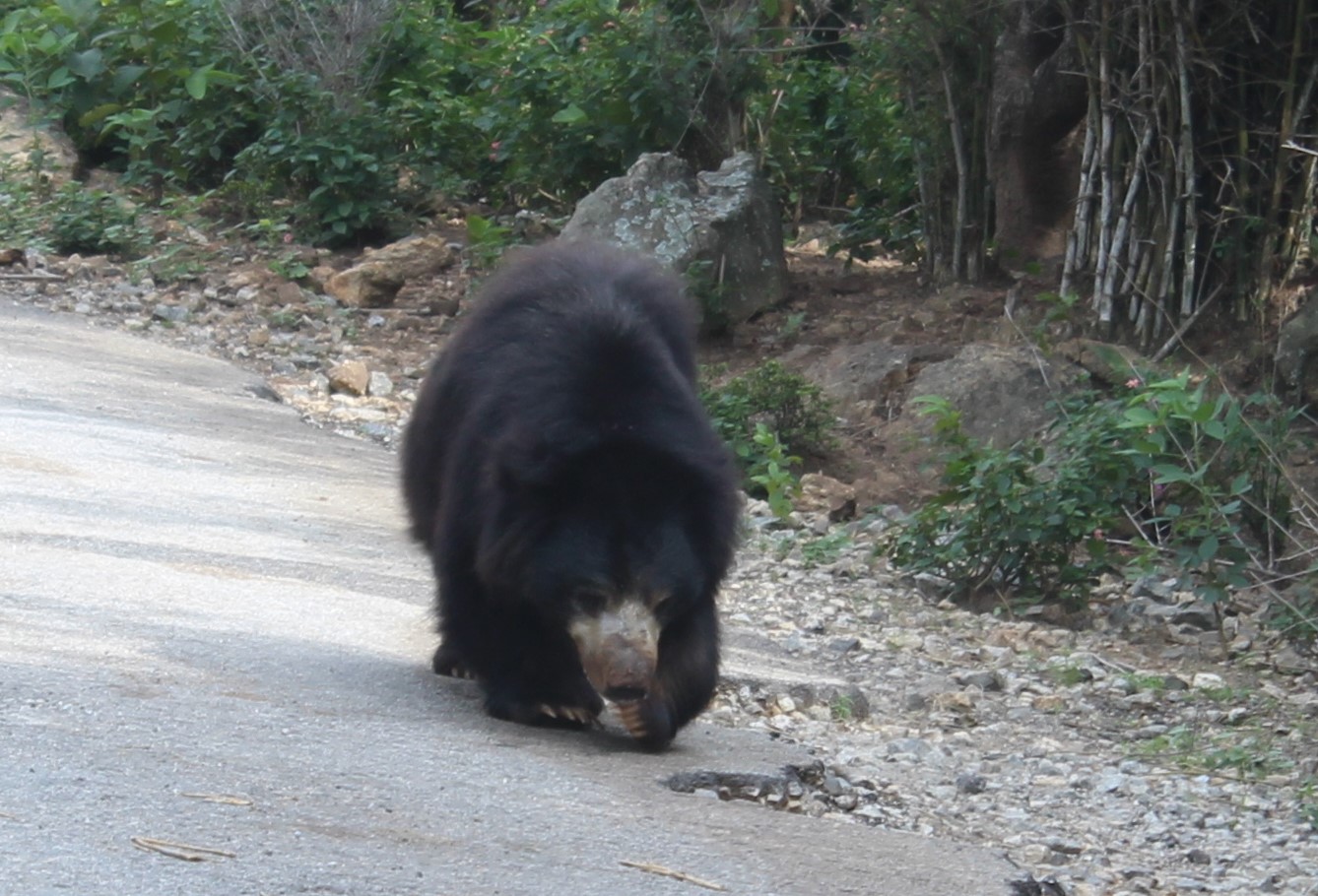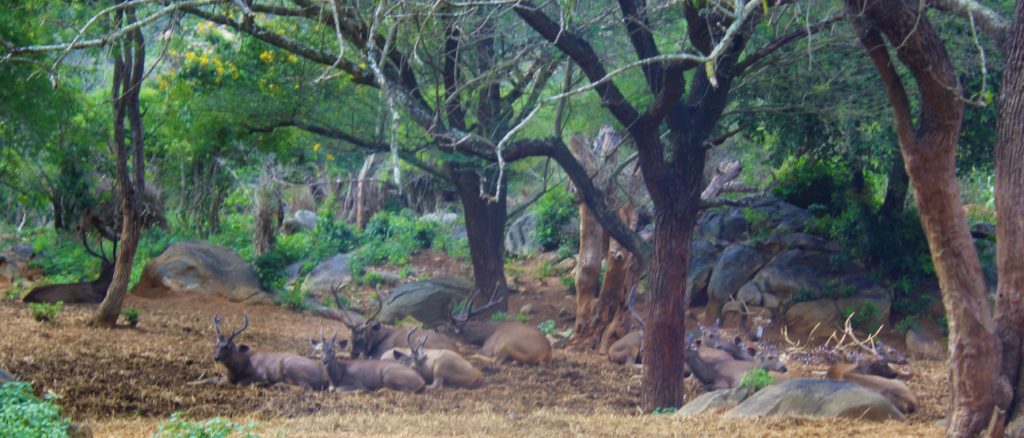 The fifth part of the park is the tiger safari and we saw a golden brown tiger sitting royally in the wilderness. We were filled with thrill and delight to see nature's giant creation dwelling in the wild jungle. The last one was the white tiger safari, which was the most remarkable part of the entire trip. The driver took the bus to the spot where we could see one white tiger moving around pleasingly. The entire trip was a feast to the eyes and we loved capturing images. All the pictures here have been clicked by us, aren't they amazing?
Bannerghatta National Park Zoo and Butterfly Park:
After the safari trip, we visited the zoo located inside the Bannerghatta National Park which was quite crowded and we had the option to hire battery-operated vehicles to roam around the zoo. However, since we have a small kid and carried a pram along with us, we preferred to walk around and view different species of animals. Since there was no time left later so we could not visit the famous Butterfly Park, but it will be on our bucket list for the next time.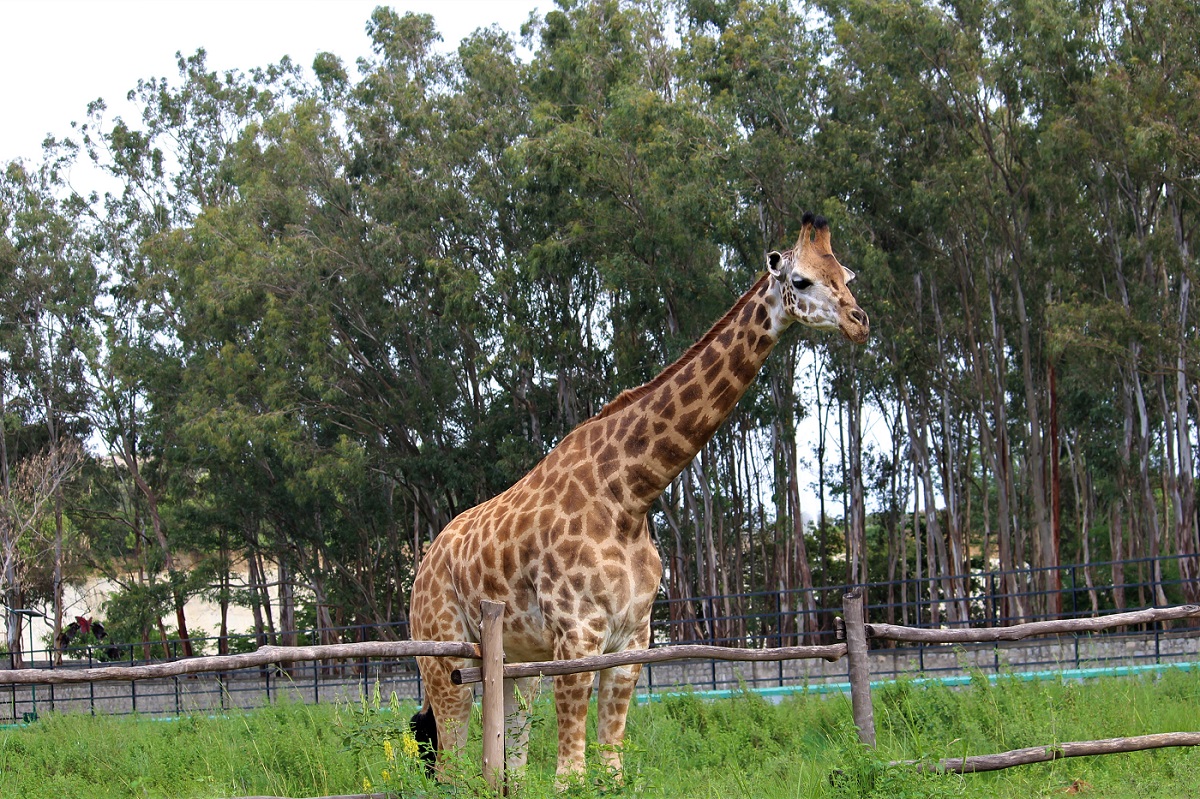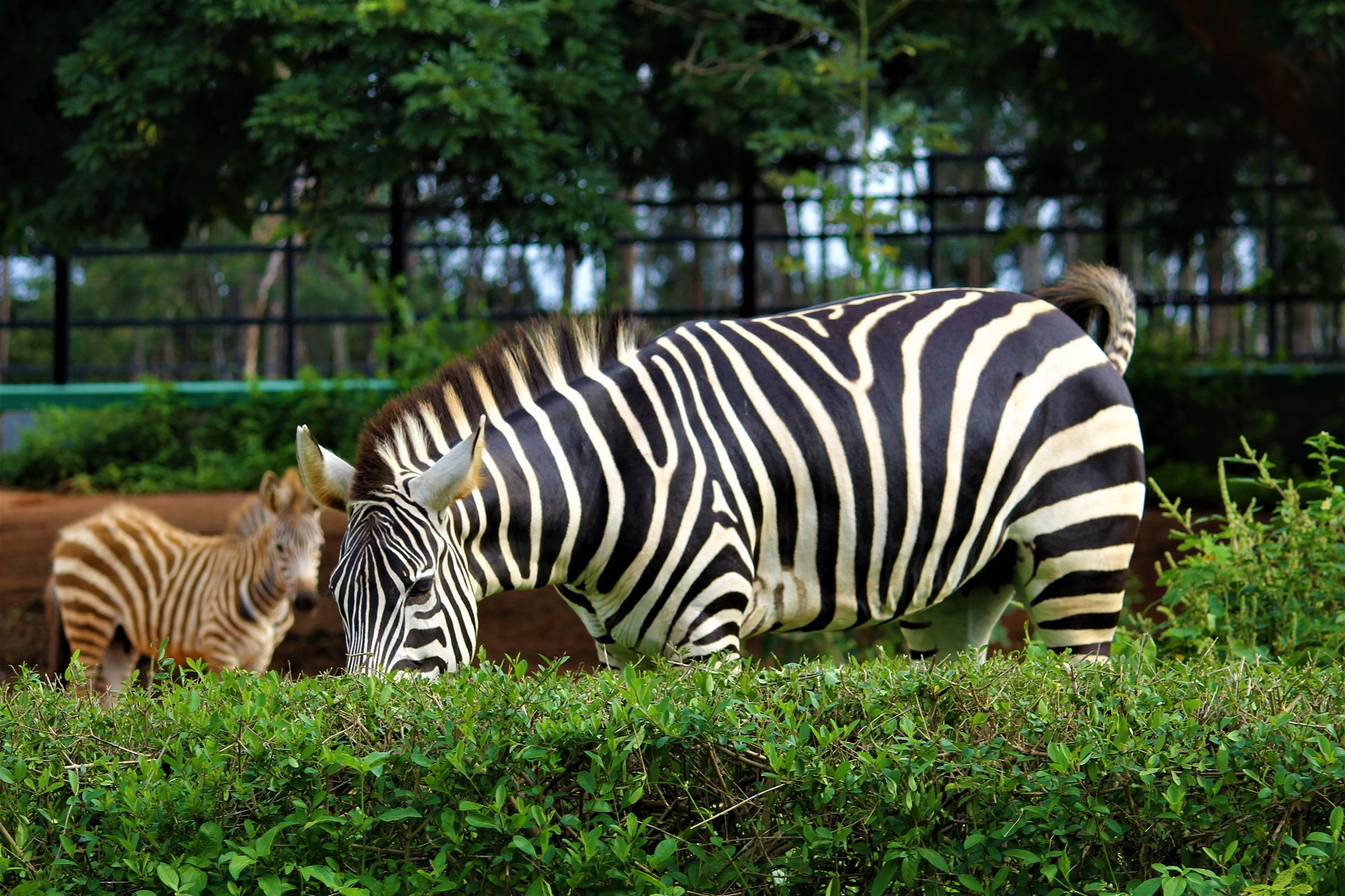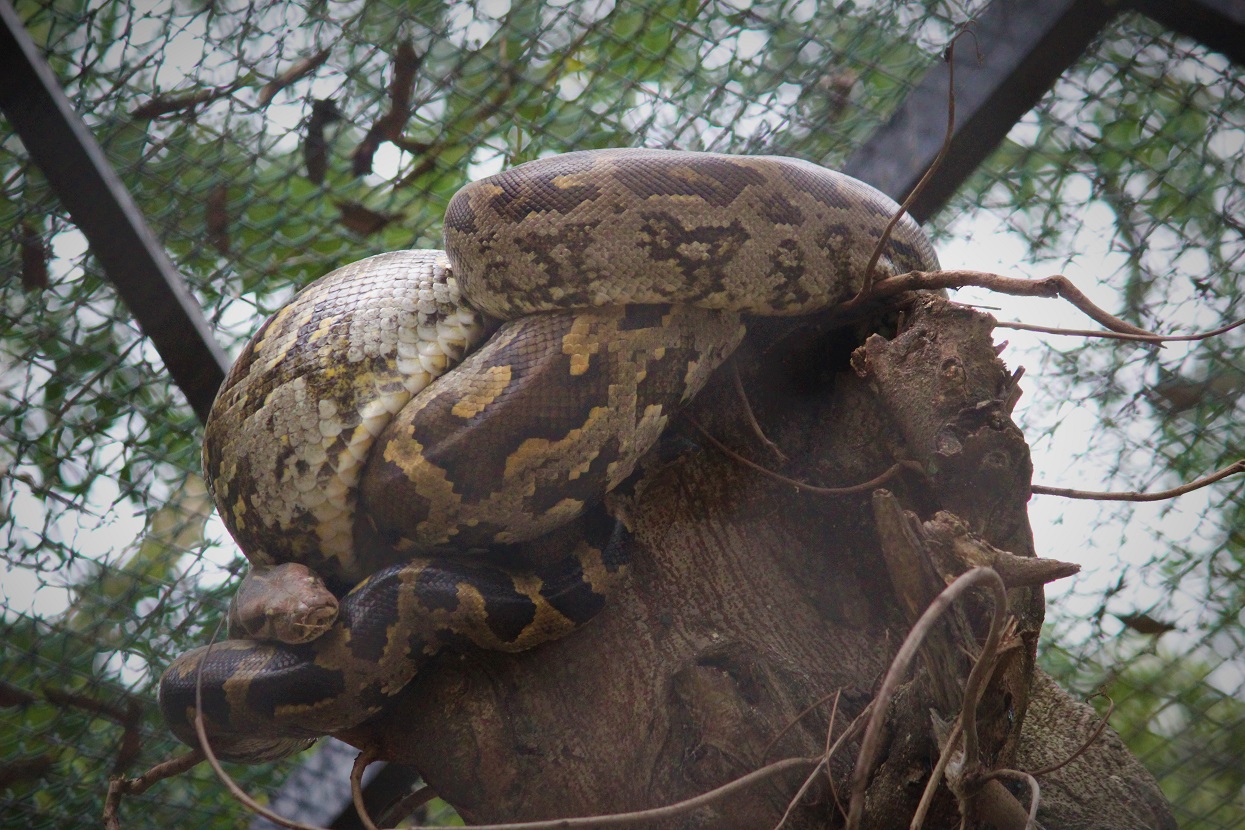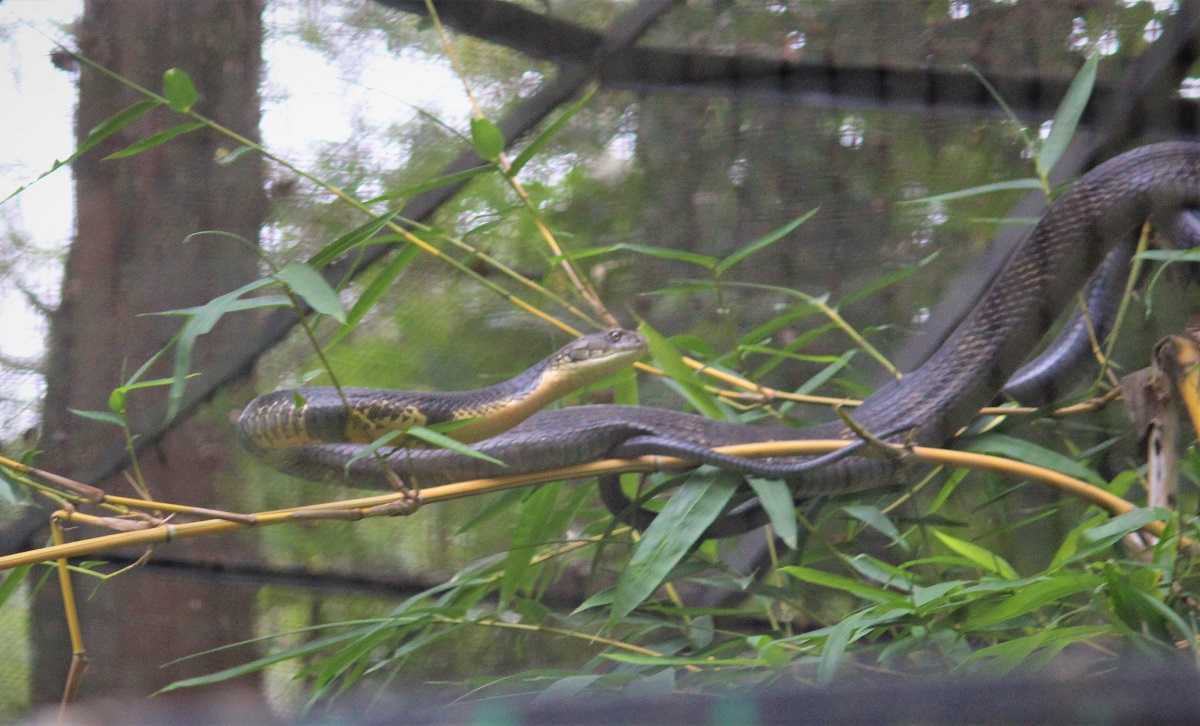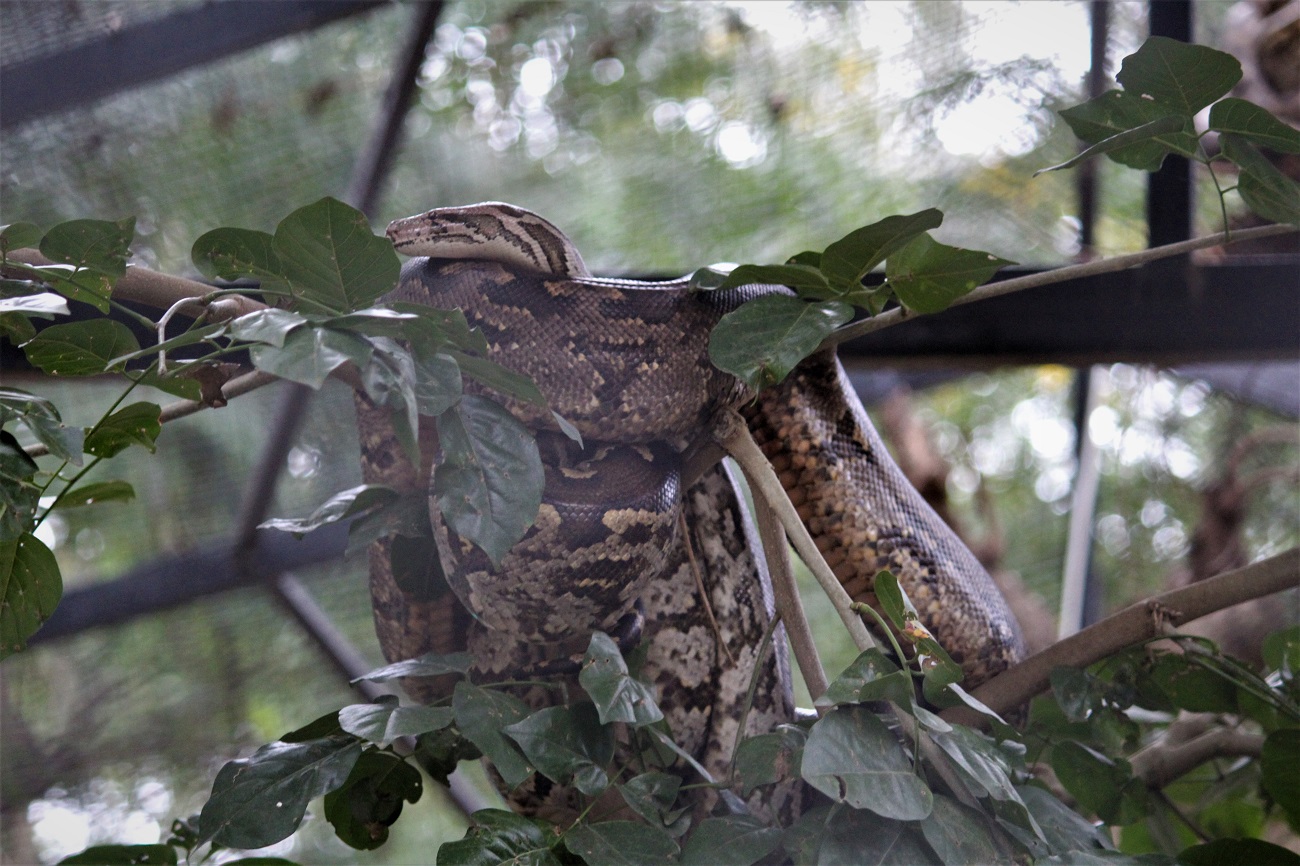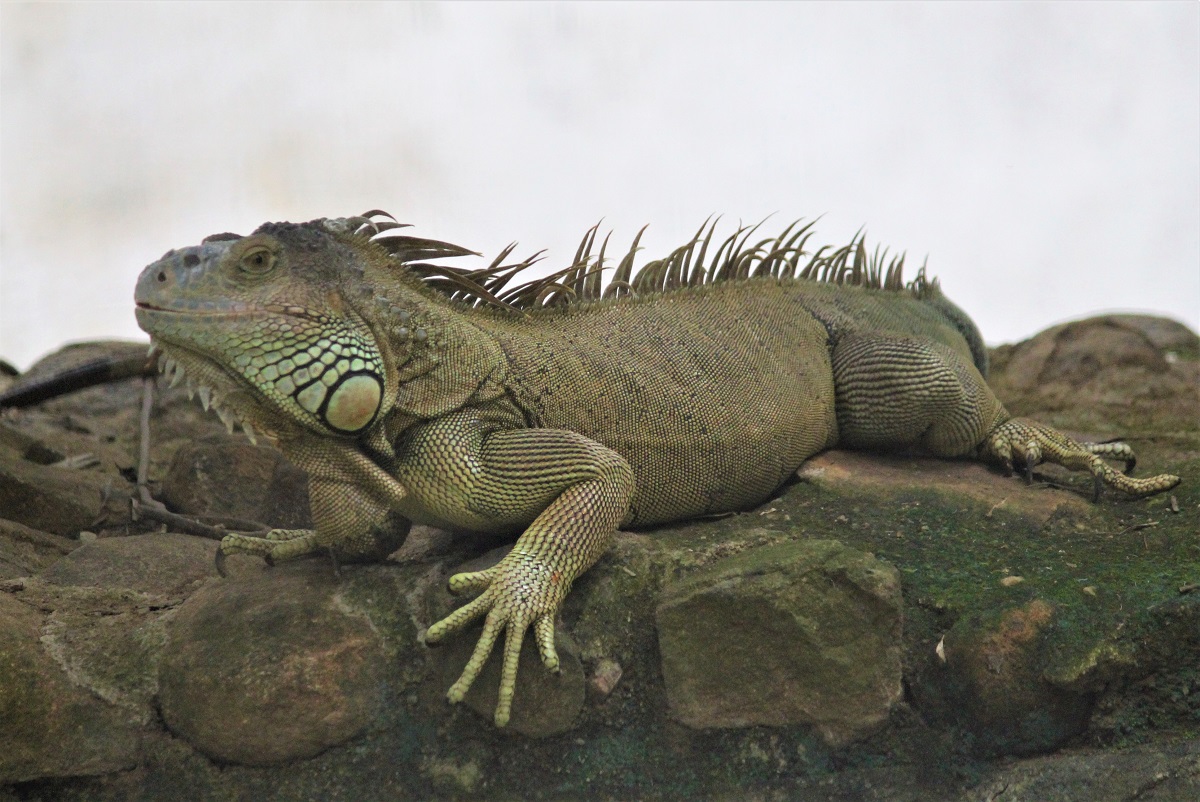 Other attractions at the park:
The park has several other attractions like wildlife film show, Museum, Boating, 3D show, etc. and there are several other facilities like hotels, resorts, parking, restaurants, and restrooms. The hotels and resorts are located within the park and you can even stay there for the night.
Travel tips to Zoo:
Book Jeep safari online one or two days before & try to visit before weekend
Try to reach early in the morning or by 10-11 so that you have plenty of time to explore
Carry minimum stuff, even if you are travelling with small kids as too much luggage will not allow enjoying your trip.
Wear comfortable shoes like sneakers and avoid heels as you will have to walk on a rugged jungle path
Carry a water bottle with you as it will be hot during noon
Make sure to carry your camera and check the camera card and battery beforehand
If you have a baby, make sure to carry a baby pram or a baby carrier.
Park remains closed on Tuesday
Don't throw away your ticket after safari as it will be needed at the zoo entrance
The place is a plastic-free zone, so don't carry any plastic bags or disposable bottles
Tariff:
Cost of jeep safari 6 seaters: Rs. 3000
Cost of Jeep Safari 8 seater: Rs. 4000
Cost of Jeep safari 7 seaters Innova: Rs. 5000
AC Bus Safari: Adults-Rs. 500, Children-Rs. 300
The most beautiful part about my this visit to zoo was i got to know that we can even adopt those wild animals. Bannerghatta National park gives you the option to adopt an animal like a Tiger, Lion, bear, etc. and numerous animals have been already adopted by several people. Visiting the National Park is one of a kind experience with family or friends and overall we enjoyed the visit as it was worthy of the time and money.