Ranveer Singh is as eccentric as they come, especially when it comes to his clothing choices. His workout gears are no different.
In the era of Airport looks and Gym looks the Padmaavat actor has developed his own niche. A Style that can be an inspiration for all the Gym lovers.
Agreed that his peculiar sense of style is hard to pull off, but we can surely break it down and start taking notes. For starters, Singh's gym wear is more or less inspired by his love for football. It is not just a regular pair of t-shirt & trouser combo but a mix of edgy, comfy and functional clothing.
All the while flashing his outlandish Fashion statement. How does he manage that on day to day basis? No,  there isn't a brigade of fashion stylist involved in it. And it is definitely not very tough to apply it to your wardrobe. Here let us help you funk your gym wear, Ranveer Singh style.
Ranveer Singh Gym Outfits You Can Steal
Not just Tracks or T-shirt
It time to embrace a new silhouette for your regular work wear. Try involving compression tights and T-shirt as it helps you train better.
You can add shorts and a t-shirt to cover up, it is nothing complicated but certainly looks edgy.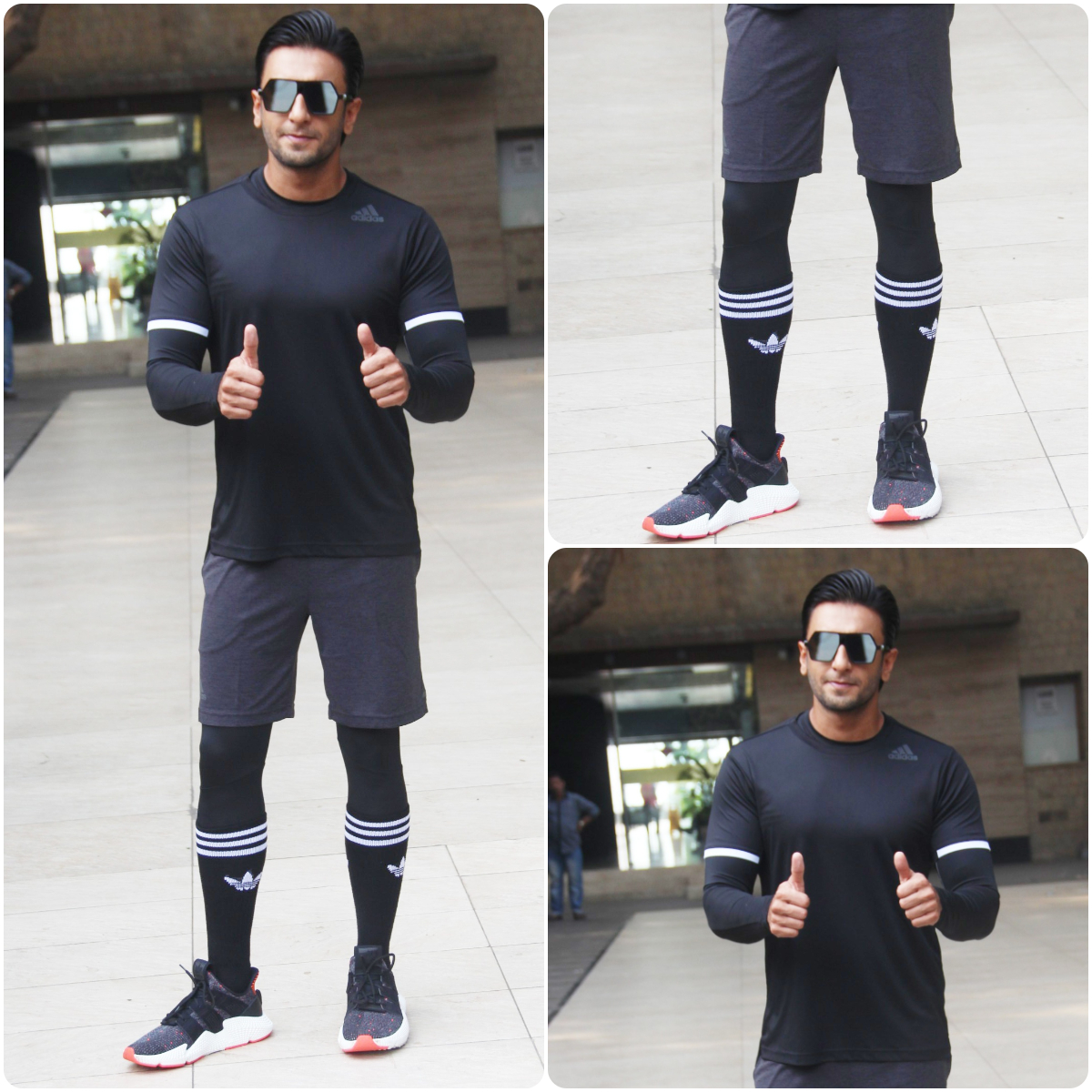 Add Colors
Well nobody can put it better than Ranveer Singh, that don't be afraid of colors while dressing. For a start, try involving color via small accessories like socks or shades.
After you gain confidence, go ahead with 50 shades of blue like Ranveer if you like.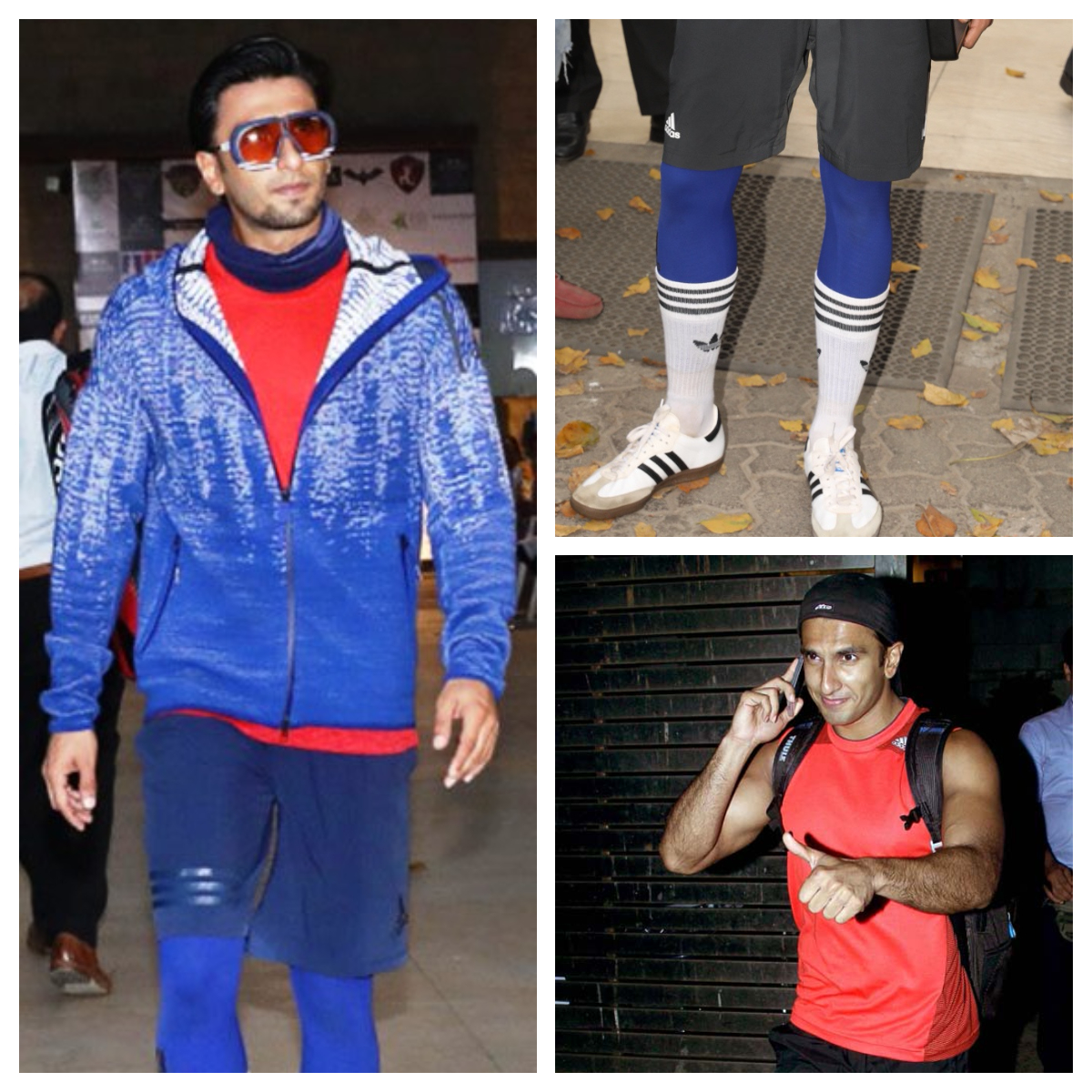 Layering
An unsaid rule of making your ensemble sophisticated is Layering. If done correctly it can lift even the simplest of outfits. Although you won't sport a jacket while training, it does lend a sporty look to your gear while you go in or out of the Gym. A simple t-shirt over the compression t-shirt also serves as a good example of layering.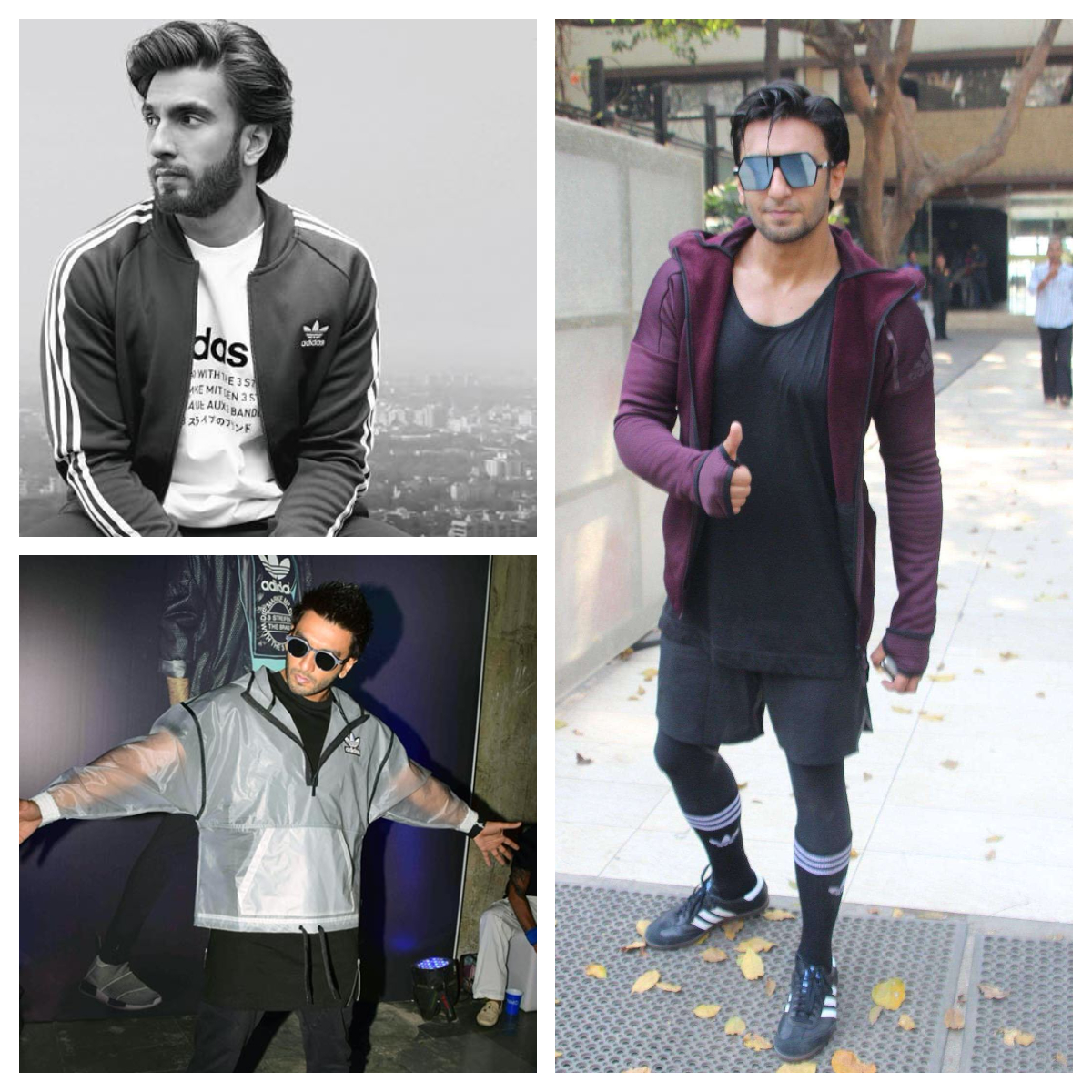 Pattern/ Print
Similar to Layering this adds substance to the ensemble. Try and mix smaller/simpler patterns at first and then move on to bold once you gain confidence. A safe bet is to have just one bold pattern and keeping the rest of the outfit simple.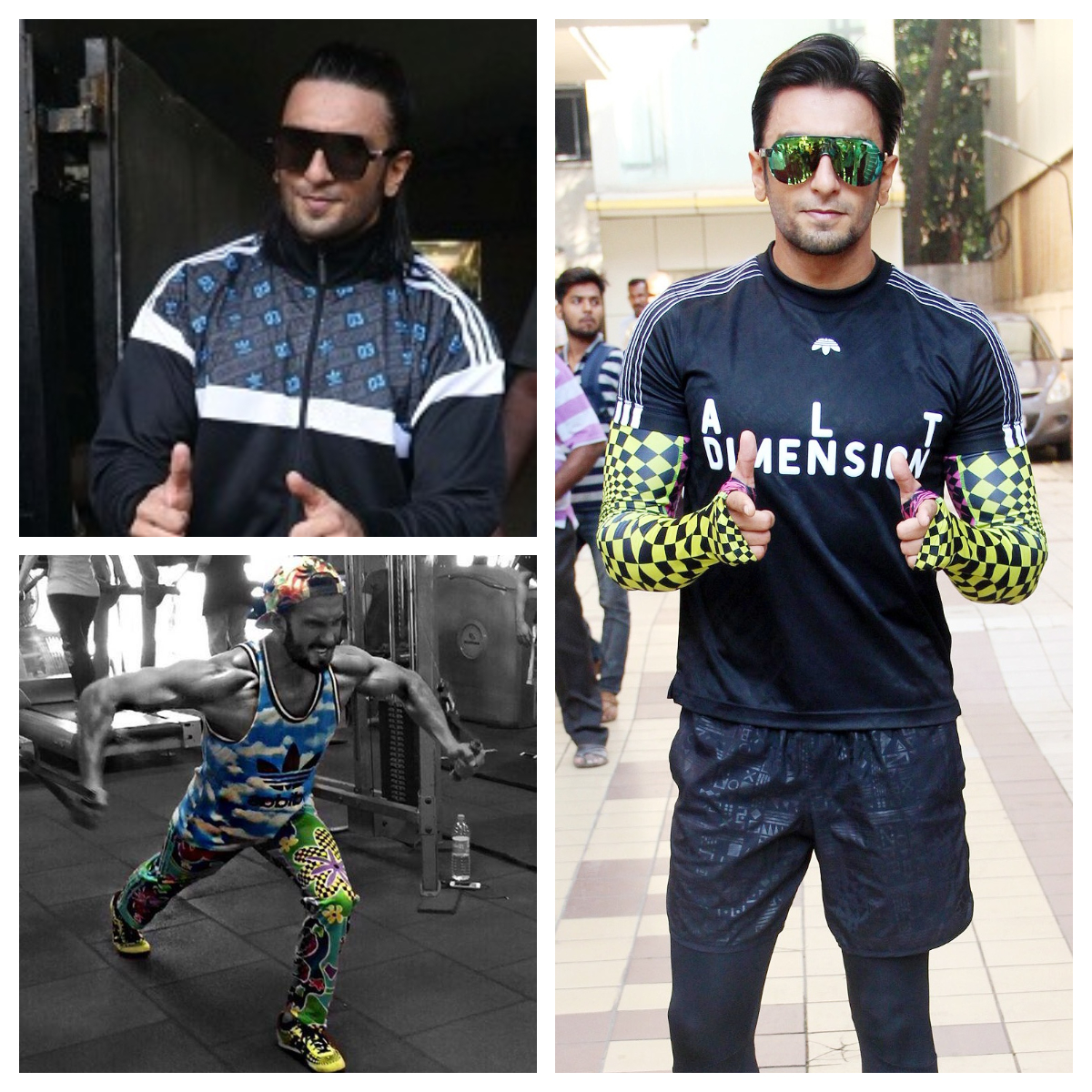 Accessorize
Accessories could be used to amp up the whole ensemble. For examples look at that variation of shades, the caps, and do not miss the neckband sported by Ranveer Singh.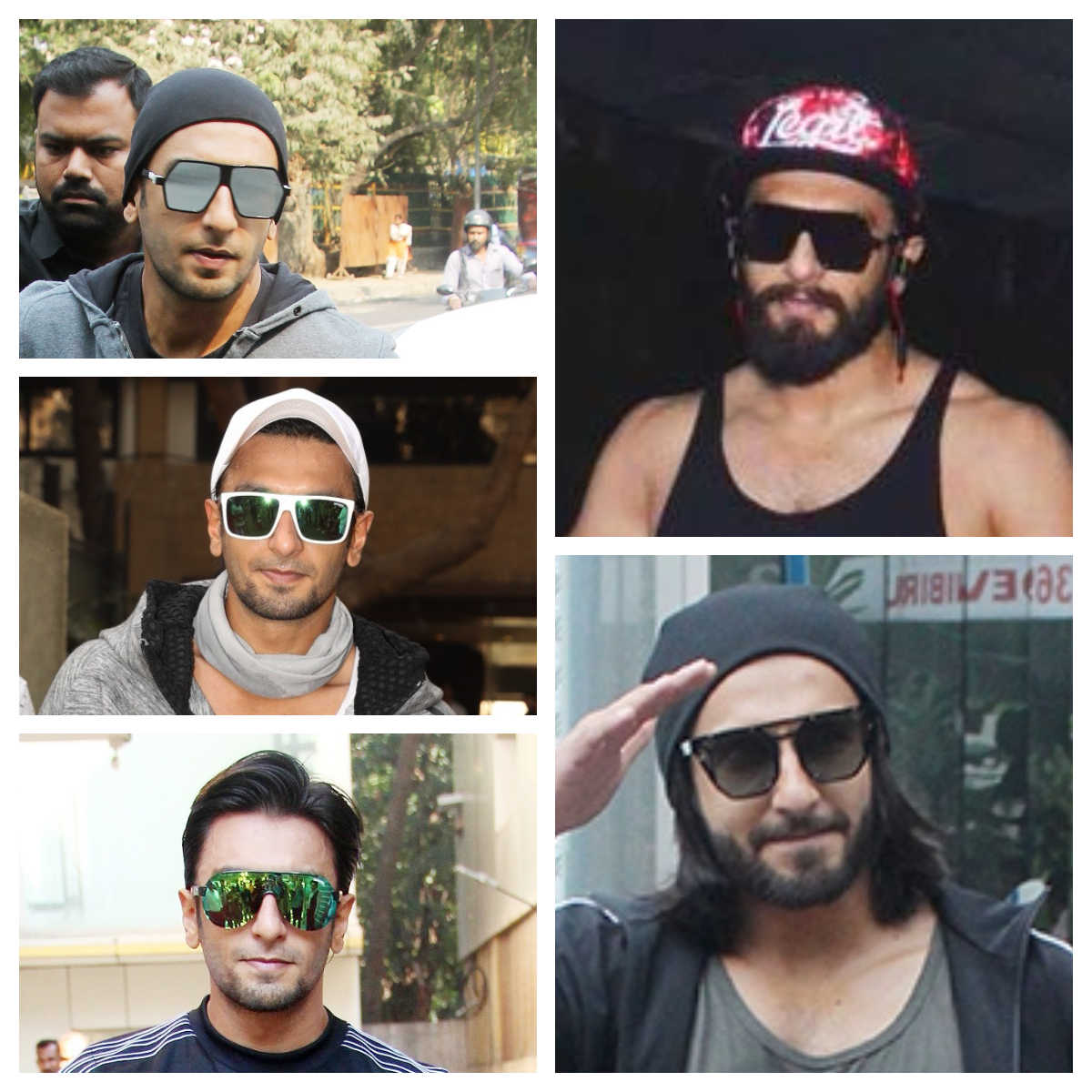 See it's not that hard. So what if you don't have paparazzi clicking you when you come out of the Gym, doesn't mean you can't dress up.
In fact, why can't be your Gym Gear be one of your OOTD or for that matter a GOOTH (Gym outfit of the day) There is no reason why you can't look good while sweating or before that or after that.
Need more help? send us your queries and we will help you out. Do send us your pictures if you have tried something similar or something very different with your Gym wear.
Also Read –