Hello Chocopie,
So this blog is going to be the review of Neesh pocket perfumes those I received a long time back to review on LetUsPublish.com, but I did not posted the review for some reason.
Now when I have used their pocket perfumes, couple of times, I thought to share my views about the product here. I received Sultana, Belle D Oud and Oud De Venice perfume samples for review.
Packaging – The perfumes are very tiny and can be easily fit into your jeans pocket which is of course a plus point for people who are perfume addict but I was little disappointed with the build quality.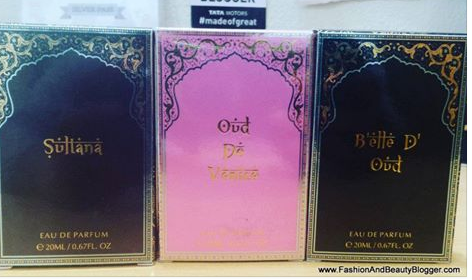 Fragrance – I tried all 3 perfumes and Oud De Venice is something that I liked the most.
Oud De Venice is a perfume for girls; it has a very soft rosy fragrance.
Sultana is a very strong royal perfume and can be the choice of boys who love strong fragrances.
About Belle D Oud, I used this perfume a long time back and don't even remember its fragrance 😛
Pricing & Availability – The 20ML of product comes for Rs. 340 which is kind of little expensive. These perfumes are available on Flipkart, Snapdeal, Ebay and Amazon for interested buyers so overall availability is so good.
How To Use:  Spray it on your skin or clothes.
Why I will recommended –  
Handy to Travel With
They have huge range of fragrances
Long Lasting
Why You can have second thought about the product –
Little Expansive
Build quality
You can visit Neesh presumes here – http://neesh.in/
Thanks for checking my review for Neesh presumes & Do share your thoughts with me through comment box.
Much Love
Yogita